Mystery vandal hacking down trees at city park
Trees worth around £30,000 to replace have been destroyed in 'savage' attacks at Beechwood Park in Stirling.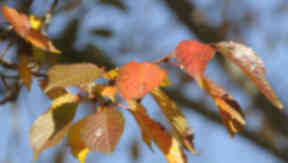 A mystery vandal armed with a blade is believed to be killing off trees at a park in Stirling.
Two historic cherry trees, planted in 1953 to mark the Queen's Coronation, have been targeted.
Police also said a "savage, frenzied attacks" have been launched on 150-year-old lime trees at Beechwood Park.
Officers are also concerned for the safety of local people who are in the park at night.
Thick strips of bark have been removed from the trees at a height of around 5ft, known as "ring barking", which effectively kills the trees.It is thought the cost of felling and replacing the trees could cost as much as £30,000.
The cherry trees were targeted some time within the last month and will now need to be felled by Stirling Council.
Central Scotland Police Constable Matt Williams said: "The trees, which consist of mainly lime and cherry trees, are all substantial. The lime trees were planted in the mid 19th century and the cherry trees were planted in 1953 to mark the coronation of the Queen.
"The damage caused is consistent with a prolonged attack with what appears to be a sharp bladed instrument.
"The cost in financial terms to replace the trees along with the cost of felling them is likely to exceed several thousand pounds.
"This is a totally mindless act, and cannot in any way be said to be an accident. There has been a sustained attack on mature trees with only one aim, to damage and destroy."
He added: "It is also worth noting that whoever has carried out this act has access to, has been carrying and has definitely been using, a sharp bladed instrument.
"The consequences for carrying an instrument capable of carrying out this type of damage could also be severe."
Murray Dickie, of Torbrex Community Council and the Beechwood "Park Friends" group, said: "Whoever is doing this has already successfully killed three medium sized ornamental cherry trees. There is now also similar damage to the more mature, bigger, limes.
"This is not the work of children, someone is coming with a large bladed instrument and slashing at these trees to remove the bark and kill the trees.
"These are savage, frenzied, attacks carried out over a period of time."
"They clearly understand what they are doing, but there is no obvious reason for such a hatred of these trees, nor any benefit to anyone. Replacing them will cost many thousands of pounds, but how do you replace a mature tree."
He added: "Police are also very concerned that there is someone going about the park after dark wielding a sharp bladed instrument. At the moment they are just cutting trees, but we would not advise anyone to approach whoever is doing this."
Anyone with information should contact Central Scotland Police on 01786 456000.