James Bond movie bosses change mind about filming at Scots castle
Filmmakers U-turn on plans to shoot scenes of new Skyfall film starring Daniel Craig in Argyll.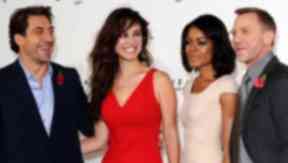 Makers of the upcoming James Bond film starring Daniel Craig have abandoned plans to film at a Scots castle.
Duntrune Castle near Lochgilphead in Argyll had been inundated with visits from staff before shooting began on Skyfall in February.
But owner Robin Malcolm was told that film bosses had changed their mind on holding the shoot at the historic venue earlier this week.
Eon Productions locations manager Russell Lodge made a personal visit to the castle to deliver the bad news.
Around 200 cast and crew were expected to descend on the castle in February for filming.
Mr Malcolm said parts of the original Bond film, From Russia With Love, had been filmed in the area in 1963 and he had been looking forward to a return of the franchise.
He said: "We were as surprised as anyone when they said 'No it's all off'.
"I particularly feel sorry for hoteliers and tradesmen in the area who were looking forward to a prosperous New Year. For myself I am very sorry I won't see Judi Dench.
"For the past three months they have been sending people up here in increasing numbers to look around. Last time we had 50 people having lunch in our kitchen."
He added: "We had heard about a week beforehand that they were thinking of changing the venue in Scotland but he came up and confirmed it. He was extremely embarassed.
"I think they would like to keep a Scottish dimension in the film, but where they do that is up to them. You win some, you lose some."
IN DETAIL