Sectarian charges in Scotland hit four-year high with hundreds linked to football
In the last year there were 693 sectarian charges made by the police in Scotland up nearly 10% on the previous year.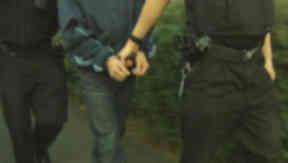 Sectarian charges in Scotland have hit a four-year high with hundreds linked to football.
The latest figures produced by the Scottish Government show what it says is the "shameful reality" of sectarian incidents in the country.
In the last year there were 693 charges aggravated by religious prejudice, up nearly 10% on the previous year and the highest level since 2006.
According to the statistics published on Friday, 58% of charges related to offences which were derogatory towards Roman Catholicism and 37% of charges related to offences which were derogatory to Protestantism.
The report also found 2.3% of the religious hate charges related to Judaism and 2.1% related to Islam.
Community safety minister Roseanna Cunningham said: "These statistics show the shameful reality of religious hate crime in Scotland. Like racism, this kind of behaviour simply shouldn't be happening in a modern Scotland but sadly, it seems there are still those who think hatred on the basis of religion is acceptable.
"We need a wholesale change of attitudes, and this new report provides a valuable insight into the nature and scale of religious hate crime across Scotland. It shows that charges for religious hatred are up 10% on last year, to the highest level in four years, and it also shows that a disproportionate number of religious hate crimes are directly linked to football, both in stadiums, on public transport and in bars.
"That is why we have made clear that we will be looking at further wide ranging actions across society, such as in schools and communities, in addition to legislation to send out a clear message that this behaviour will not be tolerated any longer."
The report also states that almost 80% of the religious hate charges were recorded in the Strathclyde Police force area, while there were no such incidents reported in Aberdeenshire, East Lothian and the Orkney, Shetland and Western Isles.
More than 260 sectarian incidents related to football according to the statistics, with Celtic Park being the scene of 47 charges, while 24 were brought at Ibrox Park. The report does not make clear how many of these related to home or away fans.
Six took place at Hampden, four were recorded at Easter Road and three at Pittodrie. The report also states six sectarian charges were brought at other unnamed football grounds.
Police officers were listed as the victims in more cases than anyone else, while 424 involved alcohol.
According to the report, some court cases are ongoing but information from the Crown database shows that 457 court proceedings took place as a result of the charges.
Of this number, 390 charges resulted in convictions, with the most common disposal being monetary with 163 proceedings resulting in a fine, while 99 incidents ended with community service orders and 70 cases resulted in custodial sentences.
Other disposals, including admonishment and referral to the children's reporter, were the result of the remaining 58 charges.
'Entrenched hostility'
Bishop Philip Tartaglia said that the report had come after repeated attempts by the Catholic Church to obtain figures relating to sectarian charges in Scotland.
He added: "Although it has taken five years and repeated requests and in spite of the fact that in the intervening period hundreds of Crown office documents have been destroyed, preventing a more complete and balanced analysis, this report does nonetheless make a useful contribution to the sectarianism debate.
"Catholics will take little comfort from the fact that they were previously five times more likely to suffer a sectarian attack than anyone else and are now 4.5 times more likely.Since Catholics represent just 16% of Scotland's population, the fact that they account for almost 60% of the victims of sectarian crime reflects poorly on modern Scotland and is an indicator of entrenched hostility on a worrying scale.
"It remains the case that the overwhelming majority of sectarian incidents are not football related. Therefore, far more engagement is needed with the church in future by all public authorities committed to the eradication of religious intolerance. I restate the willingness and the readiness of our church officials to assist Strathclyde Police in their efforts to understand and monitor religiously aggravated behaviour.
"Finally, the Catholic Church in Scotland condemns in the strongest possible terms any sectarian behaviour or criminality from any quarter whatever, as having no place in a civilised society."
Celtic FC also responded to the statistics released by stating that 14 of the 47 charges made at the club's home ground relate to their supporters.
A statement from the Parkhead club read: "Celtic Football Club welcomes the crime and justice report issued today. However, for clarity it is important to explain these figures and place these in context.
"It is noted that Celtic Park is mentioned as being the location for 47 charges. Fourteen of these offences relate to Celtic supporters, with 33 relating to supporters of visiting teams.
"To again put this in context, during that period approximately one million Celtic supporters visited the stadium, and approximately 35,000 supporters of away teams have attended Celtic Park. It is important also to stress that the 14 Celtic supporters involved have all been banned from Celtic Park.
"The vast majority of religiously-aggravated crime does not take place in or around football stadia, with 90 offences reported at stadia out of a total of 693 offences. The claim that 231 offences are 'football-related' also needs further analysis. The majority of 'football-related' offences take place away from football stadia."
The statement also highlighted the involvement of alcohol in the statistics.
It continued: "In addition, more than 60% of the total number of offences are alcohol-related. It is clear, therefore, that this also re-enforces Celtic's long-held view that sectarianism and religious prejudice are societal issues and cannot be laid predominantly at the door of football.
"Clearly, as a club open to all since its formation in 1888, Celtic will continue to work strenuously against all forms of bigotry and religious prejudice. While the vast majority of offences at Celtic Park have been committed by visiting supporters, it is important that our own support understands that any form of sectarian behaviour is unacceptable and will not be tolerated.
"Celtic's traditions of tolerance, diversity and openness are something we hold very dear and are fundamental to the club's ethos."
Ms Cunningham claimed the latest figures back-up the SNP government's plan for controversial new anti-sectarianism legislation.
She added: "This report supports the direction of travel we are taking. We need to eradicate sectarianism once and for all by cracking down on all forms and expressions of sectarian hatred, through a combination of education and tough enforcement.
"We must deal with sectarianism in the same way as with racism, and drink-driving. This bill will not be the conclusive answer or the only solution, but it is the beginning of the end.
"You can either do nothing and allow the status quo which allows the mindless bigot to thrive or we can take the strong action needed now and send out a message loud and clear that this behaviour is not going to be tolerated any longer."
IN DETAIL