Children evacuated from primary school after burn bursts its banks
Firefighters rescued 27 children from a school in South Lanarkshire after the building was flooded.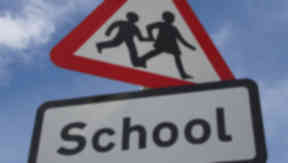 Almost 30 children were evacuated from their primary school after a burn burst its banks during torrential rain.
Abington Primary School in Biggar, South Lanarkshire, was flooded on Tuesday at around noon after the downpour hit the area.
Firefighters were called out to take the 27 pupils to safety after a burn, near the Carlisle Road school, burst its banks.
Two teachers were also helped from the school, as the group had to wade through knee-high flood waters to safety.
Firefighters pump out water from the school in an attempt to minimise flooding damage.
Strathclyde Fire and Rescue's Assistant Chief Officer Robert Scott said: "We are currently dealing with a wide range of flood-related incidents across the Strathclyde region.
"In this particular case I'm pleased to say that, other than some wet feet, no-one was hurt and all the children and teachers were quickly moved by firefighters to a safe location.
"However, an incident like this illustrates how quickly water can overtake a premises in extreme weather conditions.
"SFR crews are fully prepared to respond to whatever weather-related situations present themselves, and we are ensuring that specialist flooding equipment, 4x4 vehicles and emergency response boats are being made ready to respond as required."