Investigation launched into cause of wind turbine blaze during hurricane-force storm
The turbine in North Ayrshire burst into flames during the storms on Thursday afternoon.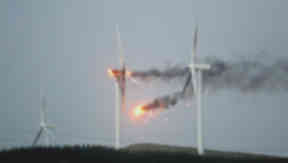 An investigation has been launched into the cause of a wind turbine blaze during Thursday's hurricane-force storm.
The turbine in North Ayrshire burst into flames during the storms on Thursday afternoon.
Material from the 328ft turbine broke off during the spectacular fire, which started after the wind farm had been turned off by owners Infinis as wind speeds of more than 55mph had been recorded.
The company, which bought the 30mw farm for £53.8m from Scottish and Southern Energy in 2010, said it was trying to establish the cause of the blaze that broke out at around 3.40pm.
Infinis confirmed the nacelle, which is the white cover housing the generator and gear box of the turbine, caught fire.
A spokesman added: "Infinis confirms that a nacelle on a turbine at its Ardrossan wind farm, in Ayrshire, caught fire this afternoon in extreme stormy weather conditions.
"The fire had extinguished itself before the fire services arrived and did not result in personal injury. As a standard precautionary measure, all Infinis staff vacate wind farms when wind speeds exceed 55 mph and therefore no one was present on site at the time of the incident.
"The local distribution network operator, Scottish Power, was immediately notified of the incident and the site has been disconnected from the electricity network as a precautionary measure. The cause of the fire is not yet known and Infinis has taken immediate steps to investigate the incident fully."
The storm on Thursday caused devastation across Scotland, blocking roads, closing schools and flooding areas as winds of up to 165mph were recorded.
Ardrossan resident Stuart McMahon captured the fire in photos. He said: "I didn't hear any explosion or anything, but my wife shouted for me to come down and see the fire.
"There are around 13 or 15 wind turbines in the farm above Ardrossan. They were all off today because of the high winds, so something has obviously shorted out and gone on fire.
"The fire was out quickly, but some debris fell from it and drifted quite a distance in the winds. The fire brigade are there, but the turbine was turning in the wind for a while after the fire."
Another resident, Tom Young, caught the blaze on video. He said: "Loads of fire engines and police were called out, but the fire was out pretty quickly.
"It was quite spectacular to say the least."
IN DETAIL