Man drowns after falling through ice on loch
The body of a 37-year-old man has been recovered from Gadloch in Lenzie in East Dunbartonshire.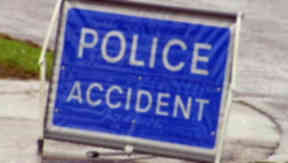 A 37-year-old man has drowned after falling through ice into a fresh water loch.
Strathclyde Police said the man's body was recovered from the Gadloch in Lenzie after an extensive search involving divers and a police helicopter.
Police were called to the incident in East Dunbartonshire at around 5pm on Sunday with ambulance and fire and rescue services. The body was recovered around 7.30pm.
Police said investigations are continuing but they believe it was an accident and there were no suspicious circumstances.
The Gadloch is situated between the town of Lenzie and neighbouring Auchinloch. It is often frozen in winter and used for curling.
The Met Office has issued a warning about ice across Scotland on Sunday and into Monday. It said frost and ice would reform on roads and pavements across and the public should be aware of the risk of disruption to travel.