Dog walker drowns in loch after falling through ice
Body of a 37-year-old man recovered from Gadloch in Lenzie in East Dunbartonshire.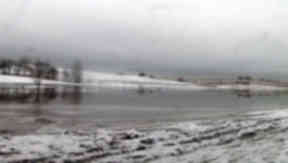 A man who died after falling through ice on a frozen loch had been trying to rescue his dog.
John McAllister, 37, went after his pet when it disappeared into the freezing water of the Gadloch in Lenzie, East Dunbartonshire, at around 5pm on Sunday.
His body was recovered more than two hours later at around 7.30pm, following an extensive search by police divers, a helicopter and fire crews using a thermal imaging camera.
Mr McAllister is understood to be local to the Lenzie area. His family are said to have been at the scene as the rescue team searched the loch.
It is believed he attempted to rescue the dog using a li-lo but the dog burst the inflatable air mattress.
Three crews from Strathclyde Fire and Rescue Service were involved in the search. They used a rigid inflatable boat to search the loch, using a thermal image camera.
Working with a police helicopter they swept the shoreline of the loch and identified the location where he fell into the water.
The rescue team warned of the danger that open water areas present, urging people to keep pets on a lead around frozen water and to avoid attempts at rescuing animals on ice.
The Gadloch is often used for curling in winter as thick ice covers the surface, but police said there was only a small and unstable covering of ice on the loch at the time.
Strathclyde Police said investigations are continuing but said it was an accident and there were no suspicious circumstances.
The dog, believed to be a spaniel, also died.