Powerful laser beam shone into cockpit of plane landing at Glasgow Airport
The light targeted the aircraft as it came into land earlier this week.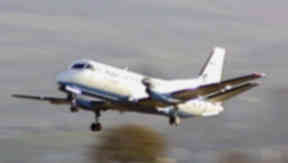 A powerful laser beam was shone into the cockpit of a plane making its final approach to an airport.
The light targeted the aircraft, a Loganair Saab C40 34 seater twin turbo aircraft from Isla, as it passed Strathblane, in Stirlingshire at around 8.15pm on Tuesday.
Central Scotland Police are appealing for information after the green laser light was shone at the plane coming into land at Glasgow Airport.
A spokeswoman said: "There was no injury or damage caused and the flight was not disrupted.
"We are keen to hear from anyone who may have seen this laser light or who knows of somebody who uses laser lights at night."
A Civil Aviation Authority spokesman added: "Shining a laser at an aircraft in flight is a serious risk to the safety of passengers and crew, as well as people living close to airports.
"During critical phases of flight, such as take-off and landing, pilots need to employ maximum concentration. Being dazzled and temporarily blinded by an intense light could potentially lead to flight crew losing control of the aircraft.
"Pointing a laser at an aircraft is now a specific criminal offence and the police are becoming very good at catching the perpetrators. We strongly urge anyone who observes a laser being used at night in the vicinity of an airport to contact the police immediately."
Anyone with information about the incident can contact Central Scotland Police on 01786 456000.