Rail bosses face criminal proceedings over train crash that killed pensioner
Margaret Masson, from Glasgow, died from multiple injuries after the Virgin train derailed on the West Coast Main Line near Grayrigg.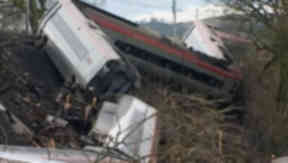 Criminal proceedings have been launched against Network Rail over a train crash that killed an elderly woman.
Margaret Masson, 84, from Glasgow, died from multiple injuries after the Virgin Pendolino London to Glasgow express train derailed on the West Coast Main Line near the Cumbrian village of Grayrigg.
Another 86 passengers were injured in the crash in February 2007 after the train had gone over an "unsafe" set of points, according to the Rail Accident Investigation Branch.
On Friday, the Office of Rail Regulation said it had started criminal proceedings against Network Rail for a breach of health and safety law that caused the Grayrigg crash.
Earlier investigations as well as last year's inquest into the death of Mrs Masson concluded that the derailment was caused by a poorly maintained set of points.
Rail regulators confirmed the opening of proceedings and stated: "This results from the company's failure to provide and implement suitable and sufficient standards, procedures, guidance, training, tools and resources for the inspection and maintenance of fixed stretcher bar points."
Stretcher bars hold the moveable rails a set distance apart when the points are operated.
The Office of Rail Regulation safety director Ian Prosser said: "We have conducted a thorough investigation into whether criminal proceedings should be brought in relation to this derailment which caused the death of Mrs Masson and injured 86 people.
"Following the coroner's inquest into the death of Mrs Masson, I have concluded that there is enough evidence, and that it is in the public interest, to bring criminal proceedings against NR for a serious breach of health and safety law which led to the train derailment."
Mr Prosser added: "My thoughts are with the family of Mrs Masson and those injured in this incident. The ORR will do everything it can to ensure that the prosecution proceeds as quickly as possible.
"The railway today is as safe as it has ever been but there can be no room for complacency. The entire rail industry must continue to strive for improvements to ensure that public safety is never put at risk."
The first hearing is scheduled to take place at Lancaster Magistrates' Court on February 24.
Mrs Masson, who was known as Peggy, was travelling on the train with her daughter Margaret Langley.
Network Rail operations managing director Robin Gisby responded to the announcement on Friday.
He said: "The Grayrigg derailment in 2007, resulting in the tragic death of Mrs Margaret Masson, was a terrible event.
"Network Rail has not hidden from its responsibilities. The company accepted quickly that it was a fault with the infrastructure that caused the accident. We again apologise to Mrs Masson's family.
"Since the derailment, we have worked closely with the authorities, conducted comprehensive and detailed investigations and made substantial changes to our maintenance regime.
"Today there is no safer form of travel than rail and it is important that the rail industry seeks ways to make it safer still."
The case is almost certain to be committed to a Crown Court.
Under English law, the maximum penalty a magistrates' court can impose for the offence is a fine of £20,000.
Last year, Network Rail was fined £3m at St Albans Crown Court after admitting safety breaches involving a set of points which led to a derailment at Potters Bar in Hertfordshire in May 2002. Seven people were killed.
The company had assumed responsibility for the crash from its predecessor rail infrastructure company, Railtrack.
A decision by the Office of Rail Regulation on bringing its own prosecution over Grayrigg had been delayed until the inquest into Mrs Masson's death concluded in November 2011 and after the Crown Prosecution Service had said it would not be pursuing charges.