Naval engineer tried to rape mother while son hid in bedroom
Aisea Yaranamua followed his victim home and committed a 'terrifying' attack after she spurned him in Argyll town.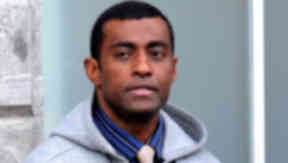 A submariner who forced his way into a woman's home and tried to rape her while her teenage son hid in his bedroom has been jailed.
Royal Navy engineer Aisea Yaranamua targeted his 50-year-old victim after she spurned his advances.
The 35-year-old was jailed for seven years at the High Court in Aberdeen on Friday for what Lord Uist branded a "determined, brazen and shameless" crime.
Yaranamua, whose submarine was docked at Faslane on the Clyde, spotted the mother-of-two in a pub in Helensburgh, Argyll. She told him to leave her alone, but he followed her home and brutally attacked her.
A jury at the High Court in Dumbarton took less than two hours to find Fijian-born Yaranamua, a British citizen, guilty of assault and attempted rape.
Lord Uist said Yaranamua had subjected the woman to a "terrifying" ordeal which left her injured and in a "state of great distress".
He said: "The court must do all in its power to protect women from sexual attack by imposing sentences which deter such crimes.
"It is a most serious aggravation of this outrageous crime that your victim was attacked in her own home after you had followed her there and obtained entry to it."
The court was told that the victim, who cannot be named for legal reasons, hid in her bathroom when the submariner forced his way into her home.
Yaranamua forced his way into the bathroom, banged the woman's head off a wall and dragged her through to her bedroom where he ripped off her clothes and attempted to rape her.
The court heard that the woman began to panic when she realised her 15-year-old son was in the house, fearing that 6ft 2in, 14.5-stone Yaranamua would harm him.
She tried calling 999 with her mobile phone but her hands were shaking. However, the call connected without her realising.
Police arrived shortly afterwards to find the sailor hiding naked behind a door, while his victim fled the room in tears wearing only a towel.
IN DETAIL