Man jailed for gangland murder of drug dealer has appeal rejected
William Gage had appealed his conviction for murdering Justin McAlroy by shooting him five times at his South Lanarkshire home.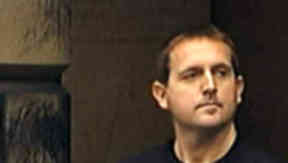 A man jailed for life for gunning down a drug dealer outside his home has had his appeal against his conviction refused for the second time.
William Gage was found guilty of murdering Justin McAlroy by shooting him five times at his home in Cambuslang, South Lanarkshire.
Several concerns over the strength of the conviction have been raised, while Gage and his legal team have fought since he was jailed in 2004 to prove his conviction was a miscarriage of justice.
Although he had initially been unsuccessful in appealing his conviction, the Scottish Criminal Cases Review Commission ordered the Court of Criminal Appeal to look at the case once again.
The appeal hearing took place in December and the decision was announced at the High Court in Edinburgh on Friday.
Five judges rejected Gage's claim that he did not get a fair trial and is the victim of mistaken identity.
Lord Hamilton said: "We are not persuaded that the appellant's trial was unfair. In all the circumstances this appeal must be refused."
Gage, originally from Hillhead, Glasgow, is serving a minimum of 20 years behind bars for the murder of millionaire's son Mr McAlroy. In March 2002, 30-year-old Mr McAlroy was killed outside his home in what police believed was retribution over a £50,000 drug debt he owed.
During the original trial, McAlroy's wife Tracey told the court she would "never forget the eyes" before identifying Gage in court as the killer she saw from her house.
She had initially told police she only glimpsed the killer as he ran away. Witnesses at the trial described the hitman as being 5ft 10in with a round face and cropped hair, but Gage is 6ft 2in, thin and had long hair at the time.
One of the main arguments by Gage's defence team is that Tracey McAlroy caught only a fleeting glance of the gunman, at night, when his face was hidden and in shadow.
The lawyers claim that her "staring eyes" evidence was prompted by a police stunt using a mannequin.
The appeal judges - Lord Hamilton, sitting with Lords Reed, Carloway, Mackay of Drumadoon and Nimmo Smith - were also told that a planned ID parade had been aborted after Gage objected to the "stand-ins."
But their written ruling said Mrs McAlroy's evidence had not provoked any objection at the 2004 trial, that judge Lord Emslie had urged the jury to be careful and that Gage's lawyer had also questioned the reliability.
Gage also challenged claims that a burned out Saab motor car which prosecutors say was a getaway vehicle was used in the shooting.
He said there were "substantial inconsistencies" in evidence about the clothing found in the case and said to link him to the shooting by traces of DNA and firearms discharge residue.