Scottish rescue base is UK's busiest
Crews at HMS Gannet praised after responding to 298 call-outs and rescuing 240 people during 2011.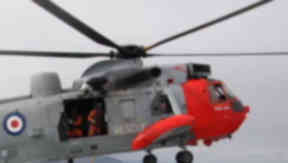 A search and rescue unit in western Scotland was the busiest in the UK for the fifth year running in 2011, it has been revealed.
The Royal Navy crew at HMS Gannet in Prestwick, Ayrshire responded to 298 call-outs and rescued 240 people during the year, the Defence Analytical Services Agency said.
It was the busiest of all 12 search and rescue units in the UK, which comprise six RAF, two Royal Navy and four coastguard bases.
HMS Gannet aircrew are on call 24 hours a day, 365 days a year and are regularly scrambled to help people in distress in Scotland, Northern Ireland and northern England.
Rescues last year included that of climber Adam Potter who fell 1000ft down Sgurr Choinnich Mor in the Nevis Range and survived, going on to climb Mount Everest later in the year.
In April seven people and a dog were rescued amid rising tides from a cliff base near Fingal's Cave on Staffa in the Hebrides after their boat capsized.
HMS Gannet's Lieutenant Commander Debdash Bhattacharya said: "Like all emergency services, we work under significant pressure and always aim to provide the best service we possibly can. Frequently lives depend on it.
"It is with huge pride that I am able to commend and thank the whole team at HMS Gannet, from the aircrews to the engineers, the met office to the administrative staff, and all the other supporting personnel like security staff, for once again maintaining and running this well-oiled operation which saves lives at a moment's notice in often terrible conditions across an area of 98,000 square miles.
"Our achievement is enabled by deep engineering expertise and high levels of professionalism and dedication on the part of the aircrew and supporting staff.
"This is an exceptional achievement and one of which each and every person involved with operations at HMS Gannet should be extraordinarily proud."
The average call-out was to a distance of 53 miles from the unit, lasting 1 hour and 35 minutes.
The longest and farthest-flung call-out was to a medical evacuation in Wick, Caithness, many miles outside the unit's usual coverage area. The 465 mile round trip took a crew 11 hours and 40 minutes to complete.
HMS Gannet's 298 call-outs equates to 17% of the 1798 call-outs last year from eight military bases.
In the last five years HMS Gannet crews have been scrambled to 1865 call-outs which led to the rescue of 1575 people.
The only other Navy search and rescue unit is at Culdrose in Helston, Cornwall where Naval Air Squadron 771 recorded 244 call-outs last year.
IN DETAIL