First Minister claims Celtic 'will not prosper' if Rangers go under
Alex Salmond claimed the 'most diehard Celtic supporter' will accept the need for the Ibrox club to stay afloat.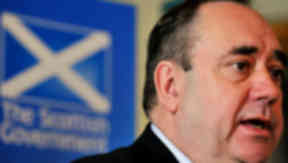 The First Minister has claimed Celtic will not prosper if their rivals Rangers cease to exist amid mounting financial problems.
Alex Salmond claimed the "most diehard Celtic supporter" will accept the need for the Ibrox club to stay afloat.
On Thursday, administrators Duff and Phelps held meetings with players and manager Ally McCoist after they were formally appointed on Tuesday.
This followed a late legal move by HM Revenue and Customs to get a court-appointed administrator in as Rangers have not paid £9m in PAYE and VAT tax since Craig Whyte's takeover last May.
After the administrators were called in, the SNP leader spoke about the news in an interview with Sir David Frost that will be broadcast on Al Jazeera English on Friday.
He said: "Obviously HMRC have got to pursue in the public interest, taxation. Equally, they've got to have cognisance of the fact that we're talking about a huge institution, part of the fabric of the Scottish nation as well as Scottish football, and everybody realises that.
"The most diehard Celtic supporter understands that Celtic can't prosper unless Rangers are there. The rest of the clubs understand that as well. Therefore you have to have cognisance of these things when you're pursuing public policy.
"We've certainly been arguing to HMRC on one hand, and indeed to Rangers, to for goodness sake get a settlement, get a settlement and a structure over time whereby Rangers can continue because Rangers must continue for the future of Scottish football and for the fabric of the country."
Previously, Mr Salmond has said he has been in discussions with the crisis-hit club and HMRC about the situation at Ibrox, as well as the ongoing case against Rangers that could leave them with a tax bill of up to £75m, according to owner Craig Whyte.
Earlier this week, Celtic chief executive Peter Lawwell said that they have a "stand-alone strategy".
In response to Mr Salmond's comments, Celtic released a statement on Thursday.
It read: "We are very disappointed with the First Minister's claims that Celtic 'need' Rangers and that Celtic 'can't prosper unless Rangers are there'.
"This is simply not true. In a series of interviews given just three days ago, we made it abundantly clear that Celtic has a well defined strategy and a business plan independent of the fortunes of any other club. That remains absolutely the case.
"The predicament of Rangers is clearly a serious and complex matter with a whole range of possible outcomes. However, we are extremely well qualified to make our own position clear and have no wish to see that being misrepresented for political reasons ."
Alex Salmond later described the row as a misunderstanding, insisting that in no way did he mean to imply that Celtic's finances are not on a sound footing.
He told STV News: "It was a simple misunderstanding. I was only arguing that I think all fans – regardless of their affiliation – would like to see Rangers continue as a club.
"Speaking a s a non-Old Firm fan, I still think that Old Firm matches, at their best, are one of the epic encounters in world football.
"In no way did I mean to imply that the finances of Celtic football club are anything other than sound."