£24m loan for Rangers season ticket sales went to Craig Whyte's company
Administrators revealed on Thursday that they are trying to find where the Ticketus loan was deposited.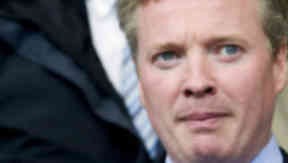 A £24m loan in exchange for Rangers season ticket sales went into the bank account of owner Craig Whyte's company.
The revelation surrounding the money from London firm Ticketus came as administrators claimed they had received "several expressions of interest" in the crisis-hit club.
On Thursday insolvency firm Duff and Phelps confirmed that Mr Whyte had secured the loan on future season ticket sales for four years after he took over last May. Previously, Mr Whyte had indicated that the money from the season tickets deal was for working capital at the club.
Administrator David Whitehouse said: "We are looking into that [the deal with Ticketus] and trying to understand.
"The funds from Ticketus didn't come through the club's accounts. They went through those of a parent company."
Mr Whitehouse told a news conference at Ibrox that the administrators were working to find the "visibility" of the money deposited by Ticketus.
He also told reporters that he was seeking documentation from Rangers' former lawyers in relation to the deal.
The administrators also confirmed that Ticketus are not secured creditors, meaning that Mr Whyte is the only one in the process of trying to agree any creditors voluntary agreement.
Ticketus has repeatedly refused to comment on its deal with Rangers, claiming it is a "confidential client matter".
The parent company of the Ibrox club is Rangers FC Group, which used to be called Wavetower before it bought over Sir David Murray's 85% share in the club for £1. The group is in turn wholly owned by Mr Whyte's firm Liberty Capital, which is registered to a PO Box in the British Virgin Islands.
Debt 'validity'
Mr Whitehouse, who gave a joint news conference with Paul Clark, also said they are trying to "verify the validity" of the debt owed to Mr Whyte by Rangers that has been secured against the club's assets, including Ibrox and training ground Murray Park.
Reports on Thursday claimed Mr Whyte had said he expected Rangers to be out of administration by their March pay-date. But administrator Mr Clark said he thought that's "possible but optimistic".
Redundancies at the crisis-hit club will not start at Rangers until next week, while the administrators said staff will be paid for this month.
Mr Whitehouse also confirmed that £9m to pay PAYE and VAT dating back to Mr Whyte's takeover last May had been deducted at source from Rangers' employees pay, but had not been handed over to HM Revenue and Customs.
This outstanding debt led to a late court move by HMRC on Tuesday, which tried to force Rangers to appoint an administrator.
Mr Whitehouse said the £9m was used as a "funding tool" by Rangers for nine months. He added: "Unpaid taxes are not appropriate long-term funding for the club."
On Thursday the pair also confirmed their company, Duff and Phelps, had been engaged in "restructuring" work with Mr Whyte after he took over Rangers. At the time MCR, which was bought over by Duff and Phelps last October, assessed "cost and staff structure and revenue forecasts".
He also said his company had liaised with Mr Whyte regarding the tax case against HMRC, which, according to the owner, could leave Rangers facing a £75m bill that they would not be able to pay.
One of the partners at MCR/Duff and Phelps, David Grier, was pictured at Ibrox with Mr Whyte the day after he took over the club on May 6. Mr Grier was also part of the administration team called in by Rangers earlier this week. During the media conference, Mr Clark said, "it's not unusual".
The administrators also moved to dismiss fears about the club ceasing to exist, saying that liquidation is "not likely".
IN DETAIL