Last Scots Spanish Civil War veteran dies
Thomas Watters was a Glasgow bus driver when he volunteered to go to Spain in the fight against Franco.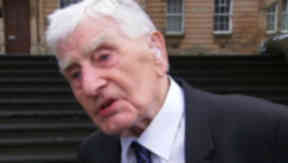 The last known Scot who volunteered to serve in the Spanish Civil War has died aged 99.
Thomas Watters was a veteran of the Scottish Ambulance Unit, which worked at the front line in the conflict to help wounded fighters and international volunteers.
Mr Watters, who died on Saturday, was a bus driver in Glasgow at the time the war broke out in 1936, when an uprising backed by Nazi Germany and Italy overthrew the Republican government.
Volunteers from around the world came to Spain in a bid to support the Spanish government and defeat General Franco's fascists.
Over 2,000 British nationals joined the conflict, more than 500 of them from Scotland, and many died for the cause.
Mr Watters,  who was originally from Tillicoutry, spent two years in Spain between 1936 and 1938.
Speaking in 2010 he said: "I had no interest in politics myself, but from the ages of 16 to 21 my whole interest outside of work was first aid and I studied under the British Red Cross for five years.
"When I was in Glasgow driving the buses for the Glasgow Corporation there was an appeal for volunteers to go out to Spain, so I went out because there was an opportunity straight away, and the Corporation gave me unlimited freedom to go out and kept my job open for two years."
At a ceremony rededicating a memorial to the International Brigade who fought in Spain, Mr Watters said: "They went out there, in ones and twos, out there to Spain, and the whole body had to be formed from all sorts of nationalities and languages and it was a huge job, but in the end they became very effective.
"By the time that I met them in a big way I was with the Scottish Ambulance unit. It was in the battle of Jarama, which was very important to both sides, and the casualties were very, very heavy and a great cost, but they held and they were very effective."
Mr Watters was given honorary Spanish citizenship at the Spanish Embassy in 2009, an award given to all internationalists who went out to Spain during the war.
He told STV News: "We have to try to learn from the past. There is no use in building up hatred...with history you must learn lessons and we hope that we will learn how to prevent things."