Craig Whyte claims 'missing money' is still with Rangers
Rangers owner says financial problems are 'not of my making' in first comments on camera since club entered administration.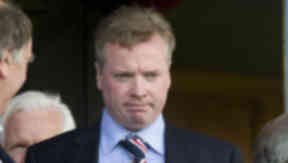 Craig Whyte has claimed that millions netted from sales of Rangers season tickets and player sales are "still with the club".
The Rangers owner was tracked down by STV as he entered the offices of Duff and Phelps, the firm that has been appointed as administrators for the Ibrox club.
In his first appearance on camera since the club went into administration, Mr Whyte claimed that his financial stewardship of Rangers would be vindicated.
Asked why had "misled fans" and kept secret a deal with Ticketus to sell future season tickets in return for £24m, he said: "I've bigger financial commitments to Rangers than anyone else and I'm working very hard to get Rangers out of administration."
Asked where season ticket money and the proceeds from the sale of Nikica Jelavic was, he replied: "Every penny is in the club, every penny has been accounted for. All that will be confirmed in due course."
After taking over the club administrators said that they did not have "visibility" of the Ticketus money and have since confirmed that the money did not go into Rangers' books.
Instead they say it was used to pay off £18m of debt to Lloyds Banking Group, allowing Mr Whyte to complete his takeover of the club.
They said the remaining money was not with the club but was in the accounts of Mr Whyte's solicitors Collyer Bristow.
There is understood to be a dispute over whether these funds should be released to Rangers.
Administrators are expected to announce on Friday the extent of cuts to staff and players at Ibrox.
Mr Whyte said: "I've got enormous sympathy for anyone about to lose their job but it's part of solving a problem that is not of my making."
IN DETAIL: