Ex-Dundee director Di Stefano tells Qatar ruler buying Rangers would be 'best deal in football'
Mr Di Stefano stated he would have 'no role whatsoever' should the Emir of Qatar move to take over the Ibrox club.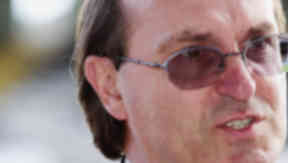 Former Dundee FC director and controversial lawyer Giovanni di Stefano has told the ruler of Qatar buying crisis-hit Rangers is "the very best deal in football".
The lawyer, dubbed the Devil's Advocate after representing serial killer Harold Shipman and Iraqi dictator Saddam Hussein among others, told STV News he had highlighted the situation of the Ibrox Club to the Emir of Qatar.
Mr Di Stefano, who is currently facing charges of defrauding clients out of £140,000, stated that he would have "no role whatsoever" should Sheikh Hamad bin Khalifa Al Thani try to take over Rangers.
Relatives of the Emir have been taking an interest in European football in recent years with his son and heir apparent Sheikh Tamim buying over Paris Saint Germain through the Qatar Sports Investments firm, while his relative Sheikh Abdullah purchased Malaga in Spain for around €36m in 2010.
On Monday, Mr Di Stefano told STV News that he had contacted the Emir to highlight the possibility of him buying the Ibrox club, who called in the administrators last month.
He said: "All I have done is pointed out to His Excellency and his advisors that in my view, if nothing else, Rangers represents the very best deal in European football at the moment.
"It would require little to no substantive investment other than repayment of debts and a new owner would have a superb club that is guaranteed European Football in the coming years as well as a huge worldwide support.
"I would have no involvement in anything to do with Rangers, as my passion in Scottish football lies elsewhere. Mind you, and I know some Dundee fans might not like this, but if I had the money, I would buy Rangers - it represents such a good deal you'd be a mug not to."
Mr Di Stefano added: "All I have done is sown the seed - if the fish bites, the fish bites. The Emir would bring stability to Rangers, which is what they need. It is one of the problems with administration in the UK that entities are not actively marketed for interested parties to purchase. If Rangers are not marketable, then we might as well close up shop."
The lawyer also stated that he believed the Emir would prove to be a "fit and proper person" to take over Rangers.
Palace gifts
He also revealed that the head of Qatar had been a "really, really nice man" to him while he was representing Saddam Hussein. Mr Di Stefano said the Emir had granted amnesty and given palaces to some families connected with the former Iraqi dictator while he had represented them during legal proceedings following the fall of the regime in 2003.
In a brief but colourful spell at Dundee, Mr Di Stefano spent six months as a director at Dens Park from August 2003 to January 2004, before he left after the club went into administration.
As Dundee again faced financial difficulties late in 2010, Mr Di Stefano told STV he would have "no problem" taking over the club, so long as he had "dictatorial command" of the Dark Blues. His statement of interest in Dundee did not go any further.
Next year Mr Di Stefano will stand trial over allegations of fraud and theft. He denies the charges and has claimed in his defence that the proceedings are "politically motivated".
At the end of last week Duff and Phelps received three indicative bids for Rangers. The Blue Knights consortium, fronted by former director Paul Murray and backed by London firm Ticketus, has made its interest known, while owner of Sale Sharks Rugby Union Club Brian Kennedy also lodged an indicative bid with the administrators.
The third interested party is understood to be Prometheus Capital Partners based in Chicago, which owns Club 9 Sports. It has previously failed in two attempts to enter into UK football club ownership with plans to take over Tranmere Rovers and Sheffield Wednesday in recent years both proving fruitless.