Titanic writer says Hollywood portrayal of Scots officer was 'unfair'
Oscar-winning Downton Abbey writer says William Murdoch should not have been portrayed as a coward in James Cameron's 1997 film.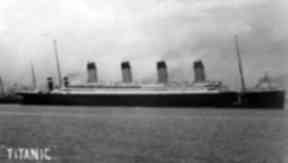 Downton Abbey writer Julian Fellowes has rekindled the row over the portrayal of the Scottish first officer of the Titanic in James Cameron's 1997 film.
Fellowes, who has penned a new four-part mini-series about the disaster to mark its centenary year, said the depiction of first officer William Murdoch was "very unfair".
Cameron's epic sparked outrage in Murdoch's home town of Dalbeattie by showing him as a coward who took a bribe and shot a third-class passenger before turning the gun on himself.
Film company 20th Century Fox later apologised in a letter to Galloway and Upper Nithsdale MP Alisdair Morgan and donated £5,000 to a memorial fund set up in the first officer's name, to sponsor a prize at his former school.
Fellowes said he was "setting the record straight" in his own dramatisation, which has Murdoch firing a gun in the air to prevent a riot.
He told the Radio Times: "It was suddenly getting out of hand, and he fired it in the air. That's not being cowardly.
"I think with real people you have a kind of imperative to be true to who they were.
"I don't think you can take someone who was moral and decent and make them do something immoral and indecent.
"I would feel uncomfortable doing that. So we do have Murdoch, and we have him firing a pistol...[But] there is a little bit of setting the record straight."
The first officer went down with the ship after it struck an iceberg on its maiden voyage across the Atlantic on the night of April 14, 1912.
He was credited with launching the lifeboats that saved 75% of the survivors.