Glasgow misses out on ultra-fast broadband
Chancellor George Osborne announced the 10 cities to benefit form the Super-Connected Cities schem in his budget speech.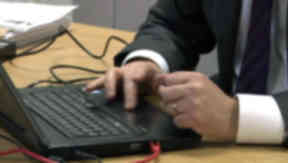 Chancellor George Osborne ****revealed in ****his budget speech that Glasgow will not be among the cities to benefit from a £100m ultra-fast broadband scheme - but Edinburgh will.
In total £150m has been earmarked to introduce and roll-out 80Mbps broadband to 10 Super-Connected Cities.
Birmingham, Bristol, Leeds & Bradford, Newcastle and Manchester ­- along with the four UK capital cities - were all successful in their bids for ultrafast fixed broadband access but there are now fears that Glasgow could be held back after the city missed out.
Cabinet Secretary for Infrastructure and Capital Investment Alex Neil said: "It is hugely disappointing that Glasgow has not been successful in its bid to be one of the 10 super-connected cities across the UK.
"This will be a major blow to businesses in the city and people going about their daily lives, who would stand to benefit significantly from funding for faster internet access. I would seriously question the UK Government's decision to exclude Glasgow and both the city and the Scottish Government will require an urgent explanation.
"Glasgow's bid represents the type of project that will demonstrate and deliver innovative solutions for our cities that will help take us to our world-class targets, as set out in the action plan we published in January. As it stands, this flawed move by the UK Government threatens to hold Glasgow back and I would urge the UK Government to urgently reconsider."
Scotland's capital will receive £8m to £11m for the work, which could give more than 90% of residents and businesses access to high speed broadband by 2015, with free public Wi-Fi zones also to be created in parts of the city.