Ally McCoist 'disgusted' by threats made to members of SFA judicial panel
The Rangers manager has condemned abuse sent to three-man panel but says he still disagrees with the the decision.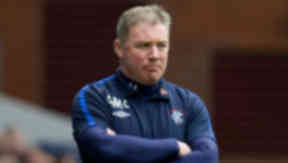 Rangers manager Ally McCoist has expressed his disgust after members of the independent judicial panel that decided Rangers' punishment have received threats.
On Wednesday night the governing body released a statement saying they had contacted Strathclyde Police about the situation after details of the three-man panel, which was appointed on the condition of anonymity, appeared on websites.
The SFA also said its directors had received abusive emails after their details were published on websites.
This came after Rangers were fined £160,000 and banned from registering new players for 12 months for a series of rule breaches including bringing the game into disrepute.
Now McCoist has released a statement clarifying his position on the matter and condemned any form of threatening behaviour towards the panel.
He told Rangers' official website: "I would like to make quite clear my position in relation to the decision by the SFA's judicial panel which earlier this week imposed sanctions against Rangers which have far reaching consequences for our club and Scottish football.
"I firmly believe that decisions of this magnitude should be fully transparent and everyone should have confidence in the system that has been created to deliver such a finding.
"When I called for full transparency on Tuesday I took the view that the decision by the judicial panel should be subject to proper scrutiny. It is unthinkable in any walk of life that such a significant punishment would be meted out without full transparency.
"I fully understand that there are difficult decisions to be taken in football and they will never suit everyone but in this day and age clarity and transparency are surely of paramount importance.
"That said, I would not for one moment want anyone to interpret my remarks as a signal to engage in any form of threatening behaviour. Such activity disgusts me and anyone who engages in it does Rangers Football Club nothing but harm. No Rangers supporter should get themselves involved in it - not now nor at any time.
"Our focus has got to be firmly on ensuring that the Club's case in appealing the sanctions imposed on us is put forward robustly and in the appropriate manner.
"Rangers Football Club was a victim of what happened during the tenure of Craig Whyte. The Club was not an accomplice, a co-conspirator nor a perpetrator of wrongdoing.
"We suffered from it and still are. I hope that our appeal can be dealt with by the SFA as quickly as possible as the situation for the Club and the possible ramifications for Scottish football are very serious."
Strathclyde Police later confirmed they would investigate any threats made against the three members of the SFA judicial panel.
Assistant Chief Constable Bernard Higgins said: "There has been a huge amount of media reporting today about the ongoing situation at Rangers Football Club and the decision taken by the Scottish FA's judicial panel.
"I can confirm that we are investigating allegations of threats and it would therefore be inappropriate for me to comment in detail.
"However, what is clear is that we are still seeing far too many people using the internet and social media to issue offensive or threatening messages to people.
"This is totally unacceptable and, in many cases, a criminal offence.
"You cannot sit in your house or pick up your phone and make threats or offensive comments about people without there being consequences.
"The overwhelming majority of people in Scotland are totally appalled by the types of comments that we, sadly, are continuing to see.
"They expect the police to take action. My message today is be assured that's exactly what we will do."
 
IN DETAIL