Police review in wake of M9 crash deaths uncovers call handling flaws
Watchdog probe came after Lamara Bell and John Yuill lay undiscovered in their crashed car for days near Stirling.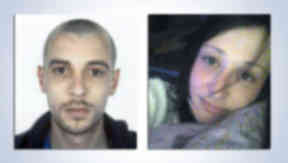 An inquiry into Police Scotland after the death of a young couple who lay undiscovered in their crashed car for three days has uncovered a raft of problems with its call handling service.
The review by Her Majesty's Inspectorate of Constabulary in Scotland (HMICS) lays bare the discontent among staff over "constantly changing" call handling procedures at the time of the crash.
The HM Inspector of Constabulary Derek Penman has also ordered that inspectors halt the further roll-out of the current "weak" call handling project until 30 recommendations are met.
The report shows some staff are noting down information from emergency calls onto scribble pads rather than inputting details into the main system, and that they are under pressure to end calls quickly.
Calum Steele, of the Scottish Police Federation, has blamed the problems on finance, saying that when an organisation is under such severe financial constraints, "then the wider quality of service to the public suffers".
Lamara Bell and boyfriend John Yuill both suffered fatal injuries after they crashed off the M9 motorway near Stirling on July 5.
An investigation was sparked after it was revealed a witness had phoned police on the day of the crash to say he had seen the couple's Renault Clio come off the road.
However, the call was not logged and emergency services did not look for the couple until three days after the incident.
Father-of-three Mr Yuill is understood to have died on impact. Mother-of-two Ms Bell was found injured and badly dehydrated in the wreckage and died seven days later in hospital.
The HMICS report is the first of two investigations sparked by the couple's deaths.
While it looks at the wider issue of call handling and Police Scotland management at the time of the crash, a report from the Police Investigations and Review Commissioner (Pirc), due early next year, will focus on the circumstances of the police response to the crash itself.
Staff morale
The HMICS report found "constant changes" in Police Scotland call handling working practices and "significant uncertainties" over their futures had affected staff morale at the time of the crash.
Police Scotland's own recent staff survey, published in October, revealed that around one in three officers wants to quit within three years and three quarters of officers believe they do not have the resources to do the job properly.
The report also found inconsistencies in the way calls are handled.
Mr Penman said: "Staff are strongly committed, in often challenging circumstances, to providing a good service to the public.
"This is despite many being subject to significant uncertainties about their futures and facing constant change in their working practices.
"We identified that workforce planning needs more attention to address previous weaknesses and ensure there are enough staff in place at critical stages.
"Initial assumptions on staffing levels were limited and there were insufficient staff in place at Bilston Glen when work transferred from Stirling and Glenrothes.
"This resulted in poor call handling performance."
The report found there were major problems with oversight and risk management under the new call handling procedures, as well as IT systems not meeting required specifications.
The report states: "There is also a need for stronger financial management, as the true financial costs and savings associated with call handling have proved difficult to determine.
"Savings in staff costs have been offset with increased police officer and overtime costs, and there is currently no framework in place to measure all the benefits from the project.
"The need for Police Scotland and the Scottish Police Authority to look at the way they manage significant and complex change programmes in the future is also emphasised within the report."
Call handling
The report showed that around 94% of 999 emergency calls are currently answered within ten seconds in the west, with 93% in the north and 92% in the east.
This compares with 92% of non-emergency 101 calls currently being answered within 40 seconds in the east and west, although only 82% in the north.
An HMICS audit of calls also showed the majority of people who rang 999 and 101 received an effective service with service advisors capturing all relevant information with a 98% accuracy rate.
Mr Penman said: "Making direct contact with the police can be a major step for a member of the public. It is essential in maintaining public confidence in policing that all calls are effectively managed and the caller's experience is positive.
"While priority calls are answered quickly and result in a prompt response from officers, I found that lower priority calls can be affected by a lack of available resources to attend incidents and weak local management of calls.
"Whilst I have been able to provide some key assurances, I have highlighted a number of weaknesses in Police Scotland's approach to the roll-out of its new national call handling model. This model is a critical element in the delivery of front line policing and a key part of the bringing together of Police Scotland post-reform.
"The oversight of this project has been inadequate with key risks and other issues not being identified or highlighted to senior managers.
"There was an initial focus on meeting deadlines and increased productivity rather than a well-managed project with a focus on customer service, good staff relations and thorough process design."
'Hard hitting'
Colin Mackay, STV's Holyrood editor, said: "The HMICS report in to Police Scotland's call handling is pretty hard hitting. It says management of cuts has been 'inadequate with key risks not being identified' with 'an initial focus on meeting deadlines...rather than on customer service'.
"It says there were not enough staff at Bilston Glen when call centres in Stirling and Glenrothes closed, leading to a key recommendation not to close control rooms in Inverness and Aberdeen until the new centre in Dundee is fully staffed and ready.
"Another key recommendation calls on Police Scotland to 'review the use of ad hoc scribble pads'. The police watchdog says that enables staff to by-pass computer systems, and, from speaking to people within the service that was one of the problems with the M9 crash which sparked this whole review.
"A member of the public made a 999 call to the police to tell them he had seen a car crashing off the M9. An officer, who didn't regularly work in the call centre, scribbled details on a piece of paper which was never properly processed. The two people in the car, Lamara Bell and John Yuill both died.
"But this is just the first of two reports, and whilst it was sparked by the tragedy, it is not specifically about it. That will come in the New Year from the Pirc.
"Her report in to the specific details of the M9 crash could lead to legal action by the families of Lamara Bell and John Yuill against Police Scotland."
Financial constraints
Calum Steele, general secretary of the Scottish Police Federation, which represents officers below superintendent rank, said: "The police service has got to save £1.1bn in its first ten years of existence.
"Invariably when financial pressures are to the front of the considerations of anybody, let alone a police service, then the wider quality of service to the public suffers."
Gerry Crawley, Unison regional organiser for police staff, said: "The report recommendations are vital to ensure our members wellbeing in this high pressure environment that has been under such scrutiny recently. We call on Police Scotland to implement the recommendations."
Brian Docherty, chairman of the Scottish Police Federation, said the organisation's concerns were "substantially borne out" by the report.
He said: "We have consistently stated that the drive to save money was resulting in an erosion of service and creating intolerable pressures on those working within it.
"We have also stated that there is little point answering calls quickly if there are no police officers available to respond to them. This report leaves no doubt that this was indeed the case and that our concerns were fully justified."
Police response
The management of telephone calls to 999 and 101 numbers is a "cornerstone of policing service", deputy chief constable Rose Fitzpatrick said in response to the HMICS report.
She confirmed that the force has now set up a Call Handling Training Academy.
DCC Fitzpatrick, who is responsible for local policing, added: "We co-operated fully with the HMICS review and will now be implementing the recommendations through a detailed and comprehensive action plan, scrutinised by the Scottish Police Authority.
"We remain only part of the way through a programme of improvement aimed at delivering a model which will provide continued high levels of service.
"We acknowledge there have been challenges. We acknowledge the issues raised regarding engagement with staff, which was also highlighted in our recent staff survey, and measures are being introduced to improve their involvement through our Contact, Command and Control Shaping the Future programme, which will encourage them to influence the delivery of call handling and recognise their commitment to this important work."