First Minister urged to step in over Murray tennis centre
More than a thousand people have signed a petition objecting to the £40m plans.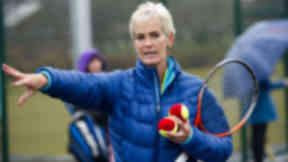 A petition containing more than a thousand signatures has been sent to the First Minister urging her to step in over plans for a £40m tennis centre and golf academy in Stirlingshire.
The proposals for green belt land at Park of Keir near Dunblane were rejected at a meeting of Stirling Council's planning panel last year.
Backed by tennis coach Judy Murray and golfer Colin Montgomerie, the development includes plans for a new four-star hotel and luxury housing.
Earlier this year, it emerged an appeal has been submitted to the Scottish Government by lawyers representing the development, amid accusations by some in favour of the plan that local opponents were simply motivated by "nimbyism".

Now the 1,094-signature petition, Save Park of Keir, don't let it be another Trump fiasco, has been forwarded to Nicola Sturgeon.
The petition claims there is "overwhelming public opposition" to the proposed development and "no evidence that this sporting complex should be at this particular greenbelt location".
It adds: "The proposal to build here is the result of chance. Judy Murray knows the landowner, who has been trying to get permission to build houses on this greenbelt for 25 years.
"The fact that the applicants, Park of Keir Partnership, will not consider the project without the luxury houses says it all."
A spokeswoman for the objectors, Ann Shaw, said on Monday: "Over a thousand signatures is an incredible number to collect, and we hope that the weight of our arguments will win the day."
Those backing the development say it has been a long held ambition of Judy Murray.
Appeal documentation adds: "The Park of Keir is a partnership between Judy Murray, Colin Montgomerie and King Group.
"Judy Murray is firmly recognised as a leading authority in developing junior tennis through the early participation of children in the game.
"She has worked at the cutting edge of coaching development to progress the game throughout the UK.
"Aside from her own sons, she has coached multiple players at regional and national level under the auspices of the British tennis governing body, the Lawn Tennis Association, and in December 2011 she was elected to lead the British Fed cup team as their captain.
"The Park of Keir proposals are a long held ambition of Judy, who will personally oversee and manage the Park of Keir tennis facility."