Stalker hid walkie-talkie to heckle psychiatrist at lecture
Victor Duployen hounded Dr Rhona Morrison as he blamed her for a previous break-up.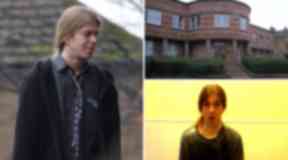 A stalker hid a walkie-talkie under a lectern to heckle a forensic psychiatrist delivering a lecture on the workings of the criminal mind.
Victor Duployen blamed Dr Rhona Morrison for the break-up of a previous relationship.
The 43-year-old stalked her, turned up uninvited at clinics where she practised and scrawled messages in red lipstick on glass doors while there.
Falkirk Sheriff Court heard on Tuesday Dr Morrison had developed "a thick professional skin" during her time with NHS Forth Valley, where she remains a consultant in adult mental health.
She had been harassed by Duployen for almost five years until the incident last Christmas at Beaconhurst School in Bridge of Allan, Stirlingshire, where she had been invited to speak to pupils.
Duployen began stalking Dr Morrison after he claimed a former girlfriend informed him she had ended their relationship on the basis of advice from the psychiatrist.
The court heard he had kept a video diary of his activities, which he posted on YouTube and called "a documentary".
Graham McLachlan, prosecuting, said that Duployen had sent Dr Morrison a letter in October 2003, accusing her of "ruining his life".
Between December 2010 and last Christmas, he began writing "defamatory" messages in lipstick on buildings where she worked, including: "Dr Morrison is a liar."
Last Christmas, he discovered Dr Morrison was to deliver a talk at Beaconhurst and turned up before guests arrived.
Giving a commentary on a video which he also posted on YouTube, he crept in and hid a person-to-person radio handset on a table near the lectern in the school's Cameron Hall.
He was challenged by janitors who saw him off the premises but they did not realise he had planted the equipment.
As Dr Morrison began her lecture, Deployen interrupted her from the hidden radio.
Most of his comments were inaudible but included the remark: "Happy Christmas, Dr Morrison".
The lecture was briefly interrupted while the walkie-talkie was removed and police were contacted.
The janitors were able to give a description of the man they had seen and suspicion fell on Duployen.
A warrant was obtained and his home was searched. Items linking the accused to him to the incident, including the other walkie-talkie, were recovered.
Police also found Duployen's video diary, which Dr Morrison had not known about.
Mr McLachlan said: "Dr Morrison was left in fear and alarm."
Duployen, a first offender, of Bo'ness near Falkirk, pleaded guilty to stalking.
His solicitor, Gordon Addison, described him as "a damaged man with an eccentric approach to life".
After reading reports including a mental health assessment, Sheriff John Mundy placed Duployen under supervision for two years.
The sheriff told the accused: "This had a highly alarming effect on Dr Morrison.
"Someone in her profession who deals with people with similar problems to this will have developed a professional thick skin so it must have been particularly upsetting.
"Obviously I have to have regard to the protection of the public."
He added: "What the reports are saying is that there's not really a psychiatric diagnosis here but his symptoms would be assisted by the services of a psychologist."
Download: The STV News app is Scotland's favourite and is available for iPhone from the App store and for Android from Google Play. Download it today and continue to enjoy STV News wherever you are.