Heritage fears over plans to develop Sheriffmuir battlefield
Proposals to plant 70 hectares of commercial forest on the site are being considered.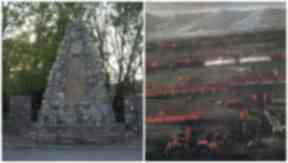 Proposals to plant 70 hectares of commercial forest on the site of the Battle of Sheriffmuir have been met with dismay by history enthusiasts.
The 1745 Association, which campaigns to protect Scotland's Jacobite heritage, said the development could have a "significant detrimental" effect on the site near Stirling.
Members have now raised an objection with the Forestry Commission Scotland (FCS) over the plans.
The objection states: "We feel that such a scheme could have a significant detrimental effect to our cultural heritage with potential to cause damage to an area acknowledged by Historic Scotland as an important battlefield site.
"Whilst we acknowledge the stated intention within the Environmental Impact Statement to minimise the effects on the site, we would consider the proposal as unacceptable due to the potential for disruption to an area which we consider a war grave.
"Only last year, the tercentenary of the battle attracted visitors from across the world to pay their respects to the fallen, and we feel that the current site should remain intact and that any proposal with the potential to disrupt the site in any way should be rejected."
The proposals, lodged by the Kippendavie Estate, are currently being considered by the FCS with a final decision expected towards the end of January 2017.
A spokesman said: "In 2012, as part of the Environmental Impact Assessment (EIA) process, we asked Kippendavie Estate to produce an environmental statement for their plans to plant 70 hectares of new woodland on the Sheriffmuir battlefield site.
"This includes archaeological, landscape and visual assessments of the potential impact of the proposed planting.
"We've received this statement and have now put it out for public consultation until December 15."
He added: "During the EIA process, we have received advice from Historic Environment Scotland (HES) and Stirling Council's archaeologist and we will obtain further advice from them and other stakeholders during the public consultation on the environmental statement.
"We are very aware of the sensitivities of this planting proposal and we will take into account published guidance from HES on managing potential change on battlefield sites."
The Battle of Sheriffmuir was a critical engagement in the Jacobite rising of 1715.
A force of 7000 highlanders under the Earl of Mar faced a British Government army of just 3000 men led by the Duke of Argyll.
Despite their numerical advantage, the Jacobites were unable to rout their opponents and the battle ended inconclusively.
The result halted the Jacobites' southern advance and severely demoralised Mar's troops.
Ten weeks later, the pretender King James Stuart had fled to France and the rising was over.
Download: The STV News app is Scotland's favourite and is available for iPhone from the App store and for Android from Google Play. Download it today and continue to enjoy STV News wherever you are.