Knifeman stabbed victim with blade he hid in walking stick
David Cameron slashed Gary Penman in the neck then jabbed the 13-inch weapon into his ribs.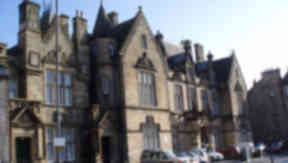 A knife attacker who stabbed his victim with a blade he hid in a walking stick has been jailed for four years.
David Cameron, 38, of Alva, Clackmannanshire, slashed 40-year-old Gary Penman on the neck before jabbing the secret 13-inch blade into his ribs.
Mr Penman staggered away, calling himself an ambulance on his own mobile, before collapsing in a pool of blood in the town in August last year.
Neighbours staunched his wounds with towels before paramedics took him to the Forth Valley Royal Hospital in Larbert near Falkirk.
Doctors found the blade had perforated Mr Penman's gall bladder and he had an emergency operation to remove the damaged organ.
When Cameron, who was found guilty by a jury last month of assault to danger of life, appeared for sentence on Tuesday, a shocked sheriff was told in a background report that Cameron had said openly he intended to become a drug dealer on his release.
Sheriff William Gilchrist told Cameron's solicitor, Krista Johnson, "It's very honest of him, very frank in one sense, but as I read the report he is potentially indicating that he is going to be supplying illicit substances."
Ms Johnson replied: "I discussed that with him this morning. It was two days after his conviction and he was somewhat negative in his attitude.
"It's fair to say his emotions were fairly mixed up. His attitude was one of despair, and he said he would lose his partner and his house, which he is fearful of, he would lose everything."
At Stirling Sheriff Court, Mr Gilchrist jailed Cameron for four years and included an extended sentence of a further two years, during which time he will be under social work supervision and can be recalled to prison if he offends again.
He told him: "You have an extensive record dating back to 1995. You have accrued over 100 charges from 59 separate court appearances.
"Most of those are for dishonesty but your record is peppered with crimes of assault, and you have one conviction for possession of a weapon.
"If you had a more extensive record for violence, I would have remitted you to the High Court for sentence."
He added: "That said, what you were convicted of, an assault to the danger of life, requires a custodial disposal and your own circumstances, from what is said in the report, indicate to me that you do require supervision when you are released.
"Indeed you went so far as to suggest to the report writer that you could not rule out supplying illicit substances on your release."
"I'm going to impose an extended sentence."
Cameron looked shocked as he was led to the cells.
During a four-day trial in December, the court heard Mr Penman had been sitting outside a flat in Alva on August 15 when Cameron, who lived in the same block, came out shouting that he was "going to get him".
Witness Chelsea Gardner, 18, said: "Gary turned round and said to David that he was going to phone the police.
"David pulled out a blade and went for him. He went for his face, missed, and went for his neck.
"He then went for his side. His arm moved fast. He jabbed it in. It wasn't a slash. He jabbed it in."
She said Mr Penman staggered off and she followed, finding him collapsed by a phone box with two local men trying to help him.
She said: "There was blood on the ground. The only thing I heard from Gary was 'tell my kids I love them'."
Mr Penman said he had been at Cameron's flat earlier. He said Cameron had attacked him because he wrongly thought property had gone missing from his flat while he had been in a drug-induced stupor.
He said: "He came bouncing towards me. I remember him saying 'I'm going for your jugular'.
"He went for my neck and when I raised my right arm to my neck he stuck it right through me."
Mr Penman spent nine days in hospital and has been left with a large operation scar, post-traumatic stress disorder and digestive problems from the loss of his gall bladder.
Download: The STV News app is Scotland's favourite and is available for iPhone from the App store and for Android from Google Play. Download it today and continue to enjoy STV News wherever you are.