Drivers face weeks of disruption from Kincardine Bridge work
The road surface of the A985 over the Firth of Forth will be replaced during the maintenance.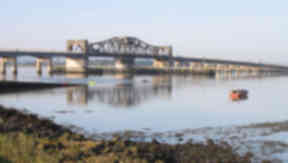 Motorists face seven weeks of disruption as £350,000 of maintenance work is carried out on the Kincardine Bridge.
During the works, the road surface will be replaced and the A985 bridge deck over the Firth of Forth will be waterproofed.
Amey, which operates Scotland's south east trunk roads network, said the improvements on the structure connecting Fife and the Falkirk Council area will "reduce the need for more extensive maintenance in the future".
Overnight works will start next week, with the bridge being shut to traffic between 9pm and 5.30am on Tuesday, Wednesday and Thursday.
The bridge will be closed next Friday, February 17, while there will be single lane closures from 5.30am the following morning.
Amey said the work will start in the westbound direction and is planned to switch eastbound on Tuesday, March 7. It is scheduled to finish on March 31.
When the bridge is shut overnight, signed diversion routes will be in operation. Eastbound traffic will be diverted from the Longannet roundabout to the A977 toll road through Kincardine and Kilbagie.
At Kilbagie roundabout, road users will be diverted to the first exit along the A876 Clackmannanshire Bridge southbound. The diversion will end at Higgins Neuk roundabout. The westbound diversion will follow the same route in the opposite direction.