Huge 112-home housing development expected to be blocked
Persimmon Homes has lodged plans for 96 houses and 18 flats in Stirlingshire.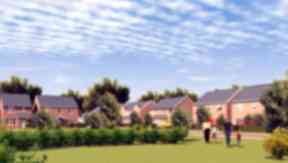 Plans to build more than 100 homes on a greenfield site are expected to be rejected.
Persimmon Homes had lodged proposals to erect 96 houses and 16 flats on land near Tappernail Farm in Reddingmuirhead, Stirlingshire.
Falkirk Council's planning committee will visit the site next week as councillors decide on the application.
In papers which will be discussed at the meeting, councillors are advised to reject the plans as they are for a larger number of homes than specified for the area under the local development plan.
The council's director of development services Rhona Geisler states: "The proposed development does not accord with Falkirk Local Development Plan as it exceeds the housing capacity of 30 units and represents an over-development of the site.
"The proposal does not represent a sensitive landscape approach which would achieve substantial greenspace, including extensive tree planting to contain the development, appropriate access provision or habitat enhancement.
"The proposal does not reflect the rural character of the area and would result in coalescence with the neighbouring villages of Sheildhill and Reddingmuirhead, contrary to the Falkirk Local Development Plan."
In its submission to the local authority, Persimmon said the development would help to "deliver a portion of the council's housing targets".
The housing developer also argued the proposals would be "acceptable in terms of design, providing high degrees of residential amenity, natural surveillance, landscaping provision and permeability incorporating direct linkages to nearby facilities and outlying areas".
Councillors will decide on the application on Monday.