Nuclear weapons activist faces jail for stopping convoy
Brian Quail refuses to pay £200 fine and says his actions are justified.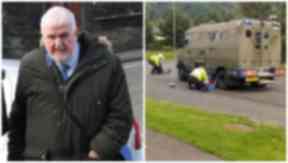 A protester who brought a military convoy to a halt is facing jail after refusing to pay a £200 fine.
Brian Quail, 78, lay underneath an armoured personnel carrier as the convoy, said to be carrying nuclear weapons, passed through Stirling on its way to the Royal Navy's base at Coulport.
His actions caused the convoy to come to a halt, blocking a roundabout beside Stirling fire station and causing traffic disruption for nearly 30 minutes.
The incident ended when Quail, a prominent Scottish CND campaigner, was forcibly removed and then arrested by police.
At Stirling's Justice of the Peace Court on Monday, the retired classics teacher pleaded not guilty to causing a breach of the peace during the incident in September 2016.
He told the court he did not dispute the facts but claimed he was justified in stopping the convoy because he was "hindering an ongoing crime - the deployment of criminal and illegal weapons of mass destruction".
After a three-hour trial, Justice of the Peace Michael Bromby found Quail guilty and fined him £200, a penalty Quail immediately said he would not pay, putting him at risk of jail.
JP Bromby said: "These actions were not trivial. They involved a lengthy MoD convoy, specialist police and so on, and disrupted traffic for 20 or 30 minutes."
Quail was then warned by the JP that failing to pay would mean the case would be passed to the court's fines enforcement officer and he would have to "face the consequences".
The activist, who has had a double heart bypass, has 14 previous convictions resulting from similar protests and has been to jail five times for non-payment of fines.
Afterwards, he pledged to continue protesting and described nuclear deterrence as "a Faustian pact".
He said: "So I act. I do infinitesimally small things, because infinitesimally small things are all I can do.
"I won't pay any fine imposed by any court that implies that Trident is legitimate or legal."
Download: The STV News app is Scotland's favourite and is available for iPhone from the App store and for Android from Google Play. Download it today and continue to enjoy STV News wherever you are.