Boss struck off over 'sexual activity' of care home OAPs
Janis Cunningham failed to raise alarm over 'violent behaviour' of male resident.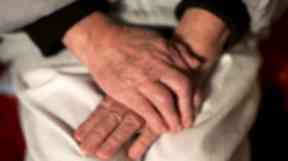 A care home manager failed to raise the alarm after she was told elderly residents "may have engaged in sexual activity".
Janis Cunningham faced a watchdog over her time in charge of the facility where the man being cared for there was "physically and sexually abusive" towards female residents.
On two occasions in May 2015, Ms Cunningham was found to have failed to have informed the Stirling Council Adult Protection and Support Team after she was told the residents "may have engaged in sexual activity" at the home.
The Scottish Social Services Council found the home boss did not refer several incidents involving the elderly man, who was staying at the home in Stirlingshire, to her area manager at owner Countrywide Care Homes.
In July 2015, Ms Cunningham failed to alert her bosses after being informed the man had inappropriately touched another female resident before displaying "violent behaviour" towards her by "grabbing her arm and making a fist gesture towards her", as well as "punching and restraining" her.
The care home manager did not follow protocol following another incident in May 2015 involving the man when he pushed the female resident at the facility.
Over the course of the summer of 2015 Ms Cunningham did not inform her boss of violent outbursts from the OAP towards staff, including an incident where he "grabbed and twisted" the arm of a care worker.
On another occasion, the man struck a member of staff in the face, which Ms Cunningham did not flag up with her superiors.
Ms Cunningham was struck off by the watchdog after it found her conduct amounted "to a breach of the trust and confidence placed in you as a manager."
The council stated: "As manager it was your responsibility to ensure referrals were made to Stirling Council Adult Protection and Support Team, within one working day, when made aware that vulnerable residents may have been potentially placed at risk of harm.
"You failed to ensure these referrals were made within one working day, or at all, when made aware of a number of incidents where female residents were potentially harmed by a male resident through physical and sexual abusive behaviour.
"You were negligent in your duty of care and this behaviour amounts to a breach of the trust and confidence placed in you as a manager. Your actions would have placed residents at further potentially serious risk of harm and breached Countrywide's adult support and protection operation policy."
The regulator also found Ms Cunningham failed to act on a "clear pattern" of behaviour involving the male resident, which would have been addressed properly if it had been shared with her area manager.
It said factors in her favour included she had "been working in a management position within the sector for several years with a good history", but aspects of her conduct which aggravated the situation included not apologised for her actions or demonstrating "any insight in relation to your failings or the potential impact this may have had on others."