The Kelpies get 'health check' and a rub down for birthday
The 98ft sculptures near Falkirk will be cleaned during inspection three years after unveiling.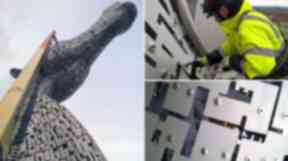 The Kelpies are facing their first "health check" almost three years after the 98ft metal sculptures were unveiled.
During an eight-week inspection, the giant equine sculptures on the banks of the Forth and Clyde Canal near Falkirk will also be cleaned.
The popular attraction was designed by sculptor Andy Scott and is maintained by Scottish Canals.
Director of infrastructure Richard Millar described the maintenance work as a "health check" by a "rather unique veterinary team".
He added: "As The Kelpies approach their third birthday, the maintenance work as part of this important health check will ensure that these global waterway icons are here, delivering for Scotland over the next century and beyond ."
Tours inside The Kelpies will continue during the planned work.