Man dangled baby by neck while still strapped in pram
George Cochrane, 27, lifted the child off the ground until he turned blue.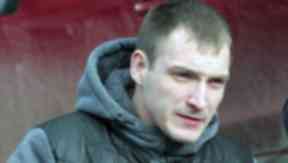 A man dangled a baby boy by the neck of his hooded jacket while he was still strapped in a pushchair.
The combined weight with the buggy pressing on his windpipe began to choke the baby, who turned blue in the face before his attacker relented.
George Cochrane, 27, was annoyed at the baby's crying and had just called the 15-month old boy "a little b******", Stirling Sheriff Court was told.
Prosecutor Matthew Kerr said: "The accused strapped the baby in his pushchair, and when he continued to cry, took hold of the hood of the top that the baby was wearing, and lifted him by it.
"Both the child and the pushchair were lifted from the floor. Both witnesses watched the baby's face go purple and then blue, and saw he was struggling to breathe as the front of his clothing was tightening to the front of his neck."
Mr Kerr said the one of the witnesses "challenged" Cochrane, and he put the baby back on the seat of the pushchair and quickly left.
The incident happened at a house in Grangemouth, Stirlingshire, which Cochrane had visited with the baby, who cannot be identified for legal reasons, for lunch.
The court heard the witnesses were already concerned after a previous incident a few weeks earlier when Cochrane had picked the baby up from the floor by his jacket and shook him backwards and forwards while crying.
They contacted social workers the next day and the child was taken to a place of safety and examined by doctors who found brown bruises on both sides of his forehead, as well as a mark on his thigh.
Mr Kerr said: "They found the injuries were consistent with blunt force trauma and said a child of his age would not have been able to bruise himself so badly by striking his head on the side of his cot."
Mr Kerr said that on both occasions the little boy had been attacked, he had been crying because he was tired.
Cochrane who represented himself in court after his solicitor withdrew from acting, pleaded guilty to assaulting the child, and behaving towards him in a threatening and abusive manner.
The incidents occurred between December 2015 and March 2016.
Sheriff William Gilchrist remanded him in custody until April 19 for pre-sentencing reports, and told him: "A custodial sentence is almost inevitable."