Pink bird feed found in park fuelled dog poisoning fears
Police Scotland and Scottish SPCA carry out forensic examination and find pellets are harmless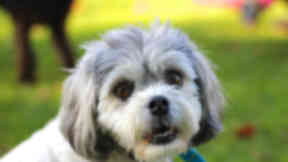 Pink bird feed left scattered around a park fuelled fears someone was trying to poison pet dogs.
Dog walkers raised the alarm after bread containing the pellets was found in the Kinnaird Village area of Larbert, Stirlingshire.
Police Scotland and the Scottish SPCA were called in to investigate.
Now the force has confirmed the "suspicious" pellets contained suet and are completely harmless.
In a statement on Facebook, Police Scotland said: "A full investigation has been carried out by the Scottish SPCA, these pellets have been forensically tested and found to be suet pellets to feed birds and not poison.

"It would appear that person(s) have been placing these pellets to feed the birds throughout the winter ."