Scots police seize 35 guns after Crimestoppers tip-offs
Officers from Police Scotland arrested 477 suspects in 2015/16 after the calls.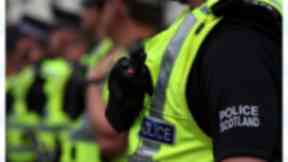 Dozens of guns destined for Scotland's criminal underworld were seized by police last year as a result of Crimestoppers tip-offs.
Police Scotland officers arrested and charged 477 suspects in 2015-16 after 10,000 calls from the public to the charity.
The information also led to officers seizing knives, ammunition and £605,692 worth of illegal street drugs.
The figures were released on Friday by Crimestoppers Scotland as it prepared to launch a campaign on Monday in Stirling to highlight the difference it can make.
The campaign comes after a spate of shootings in recent months in the Glasgow area linked to serious organised crime.
A gunman in a black Audi Q5 shot and fatally wounded Euan Johnston, 26, from Maryhill, as he sat in his Audi car at a junction on Scotland Street in Kinning Park in November last year.
In January this year, Ross Monaghan, 35, was shot outside St George's RC Primary School in Penilee after dropping his daughter off. He was targeted by a man pushing a children's buggy.
Robert Daniel, 42, was then shot in the arm as he drove his car from his house in Stepps, North Lanarkshire, less than two months later.
Scotland's chief constable Phil Gormley said last week every resource necessary would be put into investigating the series of shootings.
Angela Parker, national manager for Crimestoppers in Scotland, said: "For various reasons, people may not want to speak to the police or law enforcement, so independent charity Crimestoppers can pass on information to protect callers' identities."
Commenting on the Stirling campaign, she added: "Our message to Stirling's residents is that you can do something about it, you can prevent crime, so let's make Stirling safer, together.'
"Crimestopper's bus adverts and social media will highlight how easy it is to make a call. Community partners across Stirling will also be equipped with the charity's calling cards, banners and digital resources to share."
The campaign will also see each of Stirling's seven secondary schools being equipped with free Fearless.org resources.