Truck driver who died in crash on A81 named by police
Gary Mcearchran died after his vehicle left the road near Ballat Crossroads.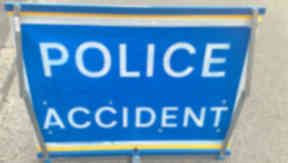 A tipper-truck driver who died after his vehicle left the road has been named by police.
Gary McEachran died in the incident which happened at about 7.30am on Thursday on the A81 near Ballat Crossroads in Stirlingshire.
Mr McEachran, 42, from Campbeltown in Argyll and Bute, was pronounced dead at the scene.
Sergeant Adam Weir, of Forth Valley road police, said: "This is a tragic collision and our thoughts are with Gary's family at this sad time.
"We are still investigating this collision and are eager to speak to anyone who may have information.
"Anyone with information is asked to get in touch with us as soon as possible."
The road was closed for most of the day before being reopened in the evening.
Anyone with information was urged to contact police on 101.