Walker airlifted off Munro after dislocating her shoulder
The woman was on Beinn Chabhair near Loch Lomond when she was hurt.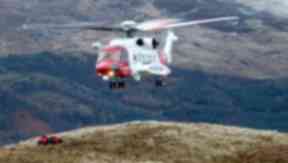 A walker was rescued after dislocating her shoulder on a Munro near Loch Lomond.
The woman was injured when she was around 3000ft up Beinn Chabhair near Inverarnan, Stirlingshire, on Saturday afternoon.
A member of her party called the police, who then informed Killin Mountain Rescue Team, after the alarm was raised at 2.30pm.
Bill Rose, secretary of the mountain rescue team, said a decision was made to call in the coastguard helicopter to airlift the walker to safety.
He stated: "The location of the casualty was quite a long way up the mountain, pretty near the summit, so around 3000ft.
"That would have taken us quite a long time to get out there and we were informed she had suffered a very, very painful injury.
"We asked the police to send in the coastguard helicopter. Despite a little issue with the clouds, the helicopter managed to find a way through and she was airlifted down to an ambulance below."
The walker went on to hospital to receive treatment for her injuries.
Mr Rose confirmed emergency services were able to locate the casualty so quickly because they provided their grid reference.
He added: "It is really important when out in the wild to be able to give a grid reference should you need assistance."