Woman stole £21,000 from great-aunt with dementia
Michaela Cameron said she was forced into the crime by her drug addict boyfriend.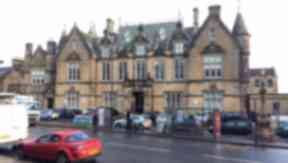 A woman drained more than £21,000 from her great-aunt's bank account while the elderly woman was in hospital with dementia.
Michaela Cameron, 25, who used to run errands for her great-aunt, Elizabeth Pawlowski, was spared jail after a court heard she had been pressured into the crime by her drug addict boyfriend.
Cameron kept Mrs Pawlowski's bank card one day after fetching her messages and then over a seven-month period used the card to withdraw £21,380 from her great-aunt's account with TSB.
During this time Mrs Pawlowski, 83, and her husband, who both suffered from forms of dementia, were admitted to hospital and then into care homes.
Cameron was unmasked after a social worker called at Mrs Pawlowski's house in Falkirk to check her mail.
She found TSB bank statements showing that substantial withdrawals - sometimes £1000 at a time - had been made from cash machines near Cameron's home following the point at which Mrs Pawlowski had been admitted to the care home and her husband to hospital.
Checks were made and it was found no one had power of attorney over the couple's accounts nor had permission to withdraw any money.
Stirling Sheriff Court was told "suspicion fell" on Cameron because she had been visiting the couple and because of the location of the ATM withdrawals, and she was called to a meeting at the home of an aunt.
'She said her boyfriend had been using drugs and was pressuring her to take money from the account.'

Prosecutor Sarah Lumsden
Prosecutor Sarah Lumsden said: "The accused was confronted and she hung her head and produced Mrs Pawlowski's bank card from her purse.
"She said she had been given the card to get some shopping. She said her boyfriend had been using drugs and was pressuring her to take money from the account."
Cameron, of Dunlop Terrace, Maybole, South Ayrshire, who wept openly in the dock, pleaded guilty to stealing the money between March and October 2014.
Defence agent Tony Currie said Cameron had been in a relationship with a man who had been abusive towards her and had forced her to take the money to fund his drug habit.
He said Cameron had so far managed to repay only £190, adding: "She knows it's a drop in the ocean compared to what was taken.
"This has had a fractious impact on her family."
After reading social background reports, sheriff William Gilchrist said the offence had been committed in the context of Cameron being pressured by her partner, who was a drug addict.
He said this pressure had progressed to physical threats and violence, and she had been forced to reveal her great-aunt's PIN number.
The sheriff said: "The theft of such a large sum of money from an elderly relative is a gross breach of trust and one that would almost inevitably be met with a custodial sentence."
He added, however, it had been presented to the court that Cameron had been a victim of domestic abuse and had been pressured by her abuser to commit the offence.
Mr Gilchrist said: "That does make a difference, if it is true, and I have to proceed on the basis that it is true as it has not been rebutted [by the Crown] and for that reason alone I will employ the alternative to custody, but it will be the maximum."
Cameron was sentenced to 300 hours of unpaid work as part of a community payback order.
Download: The STV News app is Scotland's favourite and is available for iPhone from the App store and for Android from Google Play. Download it today and continue to enjoy STV News wherever you are.