Accountant drove BMW at 100mph on motorway hard shoulder
Wajhaht Akhtar, who works at KPMG, says he was 'scared' of another car on the M9.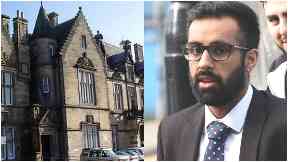 A KPMG accountant drove a performance BMW at more than 100mph on the hard shoulder of the M9.
Wajhaht Akhtar, 22, said he had been "intimidated" by the occupants of another black BMW when he hit speeds of 120mph on the motorway, Stirling Sheriff Court was told.
He slowed down only slightly, to 100mph, as he undertook other cars by using the hard shoulder, the court heard.
His driving, at 3.20pm on a Saturday afternoon last August, was described as "extraordinarily dangerous".
Traffic police carrying out speed checks near the junction of the M80 and M9 near Stirling recorded the 120mph top speed on a handheld laser as Akhtar's BMW 3 Series 335D went past them.
The car has a listed top speed of over 155mph and sells new at more than £40,000.
Prosecutor Adrian Fraser said the officers followed the BMW as it headed north and between junctions 9 and 10 they could see that it was being driven on the hard shoulder, undertaking other vehicles.
Mr Fraser said: "My understanding is that the police estimated the speed of the accused's vehicle at the time of the undertaking manoeuvre as being over 100mph."
Police eventually managed to catch up with Akhtar and pull him over.
He told officers: "I was doing it out of scaredness. I was trying to get away."
Road traffic lawyer Richard Freeman, defending, said that shortly before police saw him, another black BMW with a driver and passengers in it had come up behind Akhtar and "intimidated" him by driving from lane to lane and pulling alongside him.
Mr Freeman said Akhtar had been scared by the "demeanour" of the occupants of the other BMW.
He said: "This frightened him and that's why he took what he now appreciates was a very stupid decision to try to get away from that vehicle."
'He is not a boy racer. He is not interested in speed. This has brought shame on him. He feels he has let himself down and let his family down.'

Lawyer Richard Freeman
Mr Freeman added: "He is a married man and an accountant with KPMG in Glasgow, a very high achiever with a BA in accountancy and in the final stages of taking his chartered accountancy exams.
"He is not a boy racer. He is not interested in speed. This has brought shame on him. He feels he has let himself down and let his family down.
"He uses his car to commute to work, he helps out his father, who is a shopkeeper, at the weekends, and he assists old people at his local mosque by giving them a lift home."
Mr Freeman said at the time of the incident, on August 27, 2016, Akhtar had been on his way to visit a restaurant in Perth.
Akhtar, of Bearsden in Glasgow, pleaded guilty to dangerous driving.
Mr Fraser said he "could not confirm or refute" the defence's claims that Akhtar had been trying to get away from a car that had been menacing him.
Sheriff William Gilchrist asked: "Since there were other vehicles there, why didn't he just fit himself in amongst them, where he would have been entirely safe?"
He fined Akhtar £2700, banned him from driving for 21 months and ordered him to resit his test before getting back behind the wheel.
The sheriff said: "Driving at that speed on the hard shoulder was an extraordinarily dangerous thing to do."
Akhtar was granted permission to pay the large fine at £250 a month.
Police Scotland also condemned Akhtar's actions.
Inspector Andrew Thomson, of Forth Valley's road policing unit, said: "Akhtar demonstrated an utter disregard for his own safety and that of other road users.
"There is no doubt that inappropriate speed is one of the most serious road safety problems on Scotland's roads, and causes death and injury to many people each year.
"Police Scotland continues to operate a robust policy in respect of drivers exceeding the speed limit or driving at an inappropriate speed."
Download: The STV News app is Scotland's favourite and is available for iPhone from the App store and for Android from Google Play. Download it today and continue to enjoy STV News wherever you are.