Robber punched 13-year-old girl while raiding her house
Bryan Moorhead was high on drugs during the incident in Torbrex, Stirling.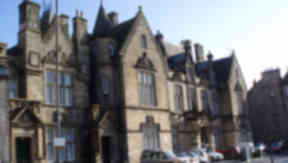 A robber punched a 13-year-old girl who tried to stop him stealing her iPad from her house.
Bryan Moorhead, of Glasgow, was on early release from an 18-month sentence for assault and robbery when he and another man travelled to Stirling from Glasgow while high on drugs to carry out the early morning raid.
The 23-year-old was caught leaving the scene with stolen goods by the girl, who was returning from her paper round.
The teenager, who cannot be named for legal reasons, hit Moorhead in an attempt to stop him but he punched her "full force" in the forehead.
Stirling Sheriff Court was told on Wednesday that the girl had left her house in Torbrex at 6.45am on February 16 with her father to go off on her round.
Helped by her father, it was quickly completed and he dropped her back at home 15 minutes later and drove straight off to work.
Sarah Lumsden, prosecuting, told the court: "But as she walked back up to her front door she noticed it was ajar.
"She opened it to find two males in hoodies, both with their hoods up, who walked out of the property with a bag and down her drive.
"She began shouting at the males, and ran towards the accused, took hold of him and went to strike out at him to prevent him from getting away.
"Moorhead then punched her full-force in the forehead, striking her just above her right eye."
Ms Lumsden said the blow caused the young girl to stagger backwards and "back off".
The depute fiscal said: "The commotion that this caused resulted in the girl's mother, who was in her bedroom, becoming aware of something happening, and she looked out to see the males running off."
'I think it can best be expressed that he performed a citizen's arrest and shouted for somebody to phone the police.'

Prosecutor Sarah Lumsden
The girl went to walk back into her house, noticing the thieves had dropped her family iPad Mini, nail polish and some cosmetics from their bag as they ran off.
Inside the house, she found her mobile phone and the keys to her father's Range Rover were missing.
Police were contacted, as was the girl's father, who returned immediately. Officers took statements and left a short time later.
At this point the girl's father became aware of two males hiding behind a fence in a garden across the street, one of them "matching the general description" given by his daughter of the man who had assaulted her.
Ms Lumsden said: "He gave chase, got hold of the accused, and took him to the ground.
"I think it can best be expressed that he performed a citizen's arrest and shouted for somebody to phone the police.
"The police, as it happened, were passing the area and observed him restraining Moorhead on the ground and detained the accused."
The girl's phone was found in Moorhead's trouser pocket and the stolen car keys were later found on the ground behind the fence.
The 23-year-old told police he was helping another man, who has not been traced.
Moorhead, from the south side of Glasgow, pleaded guilty to theft and assault.
His not guilty plea to a third charge, of attempting to steal the Range Rover, was accepted by the Crown.
Defence agent Elaine Rae said Moorhead had been under the influence of "street Valium" and had been driven to Stirling from Glasgow in the middle of the night by others.
They had then noticed the property being "apparently left insecure" as the girl and her father went out and decided to raid it.
She said: "Quite valiantly, this young lady swung at him and punched him to stop him leaving when she realised what was going on and he reacted in the manner described in an effort to get away.
"That's not an explanation, not an excuse, for his disgraceful conduct."
Sheriff Wyllie Robertson jailed Moorhead for 27 months, consecutive to serving the unexpired 150-day portion of an 18-month sentence for assault and robbery imposed on him at Glasgow Sheriff Court last year.
The sheriff said it was "surprising" that despite the description of a "full force punch", no injury to the schoolgirl had been alleged.
He said he had to deal with the case on the basis of the plea agreed between the prosecution and the defence.
Mr Robertson added: "Custody is inevitable."
Download: The STV News app is Scotland's favourite and is available for iPhone from the App store and for Android from Google Play. Download it today and continue to enjoy STV News wherever you are.