New stop smoking service without need for GP visit launched
The scheme was unveiled by NHS Forthy Valley on Monday.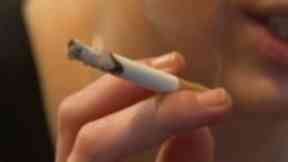 A new service to help smokers quit that does not require them to visit their GP has been launched.
NHS Forth Valley launched the scheme on Monday, which will see those wanting to kick the habit able to receive stop-smoking medication Champix without the need for a visit to their doctor.
Checks will be carried out on those interested by a pharmacist or prescriber who will determine whether smokers wanting to quit suffer any health conditions for which Champix is not recommended.
The programme will be provided at St Ninian's Health Centre in Stirling on Wednesday evenings.
NHS lead smoking cessation nurse specialist Gillian Bruce said: "This is an exciting opportunity for all smokers looking to quit to access treatment and support without the need to wait for a GP appointment.
"It means that once they have decided they'd like to stop they can strike while the iron's hot."
Between January and December 2011 NHS Forth Valley supported 719 men and 995 women to quit smoking, which it said exceeded Scottish Government targets.
Feedback: We want your feedback on our site. If you've got questions, spotted an inaccuracy or just want to share some ideas about our news service, please email us on web@stv.tv.