Robert the Bruce letter found urging king to end Scots' persecution
The letter to King Edward II, sent in 1310, shows Robert asserting his god given authority as king of Scots.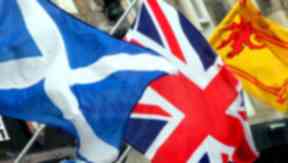 A copy of a previously unknown letter by Robert the Bruce imploring King Edward II to cease his persecution of the Scots in the build-up to Bannockburn has been discovered.
The letter, sent in 1310, shows Robert asserting his god-given authority as king of Scots and addressing Edward as his equal.
The letter has presented historians with fresh information about a pivotal time in the wars of Scottish independence as Scotland prepares to commemorate the 700th anniversary of the decisive Battle of Bannockburn next year.
Discovered by chance by a Glasgow historian, the document reveals how Robert made an appeal for peace when faced with an English army marching into the heart of Scotland, but on the understanding that Edward would recognise Scottish independence.
The document, which is thought to have been transcribed around the turn of the 16th century from the original letter, provides new insight into a time when Robert and Edward were experiencing different fortunes.
King Edward was growing increasingly unpopular with the nobles in his own court, according to historians, whilst Robert was slowly reclaiming power north of the border by winning the hearts and minds of the Scottish people.
Dauvit Broun, professor of Scottish history at the University of Glasgow, who made the discovery, said: "The letter reveals a couple of things: firstly, Bruce's tone is extremely conciliatory. He seems to be offering to do anything possible to establish peace.
"However, he is nonetheless plainly addressing Edward as one king to another. There is no doubt that the bottom line here is that Edward should recognise Robert as king of the Scots and the Scots as separate from the English.
"It's impossible to know if Bruce was serious about keeping the peace at almost any price, however it seems likely that he would have known that Edward was coming north to escape trouble in England as much as to assert control over Scotland. This could be seen as an attempt at fishing to see how Edward would react.
"The writing of this letter should be seen as a bold move by Bruce, who had perhaps recognised that the tables were turning and he could stand his ground in the face of an advancing English army and open negotiations with the king.
"It allows us a clear sense of Bruce's terms, which were basically anything as long as Scottish independence is recognised."
The letter, translated from its original Latin, states: "To the most serene prince the lord Edward by God's grace illustrious king of England, (from) Robert by the same grace king of Scots."
It adds: "Our humbleness has led us, now and at other times, to beseech your highness more devoutly so that, having God and public decency in sight, you would take pains to cease from our persecution and the disturbance of the people of our kingdom in order that devastation and the spilling of a neighbour's blood may henceforth stop."
By the time of the Battle of Bannockburn in 1314, Bruce had taken all the strongholds except Stirling and those near the English border.
In the end, Bruce's move paid off as King Edward took his army south again to Berwick where he remained until July the next year. The next time he returned north, three years later, Edward was beaten at Bannockburn.
Your report: If you have information on this or any other story, please let us know. You can send information, pictures to web@stv.tv or call us on 01224 848918.
Feedback: We want your feedback on our site. If you've got questions, spotted an inaccuracy or just want to share some ideas about our news service, please email us on web@stv.tv.