Student who died after night out 'had date-rape drug in system'
David O'Halloran's body was found near Bridge of Allan after a three-month search.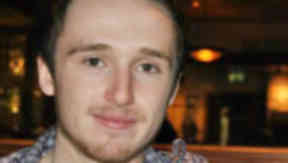 A student whose body was found in woodland three months after he disappeared had traces of the illegal drug GHB in his system, it has been revealed.
A massive police search was conducted when maths student David O'Halloran failed to return to his accommodation after a night out in Stirling in January.
The 18-year-old's body was finally discovered in a field near Bridge of Allan in mid-April.
At the time, police said the teenager, originally from Kilmaurs, Ayrshire, had likely died from hypothermia as he got lost trying to find his way home.
However, toxicology tests have now revealed that Stirling University student Mr O'Halloran had "high levels" of the drug GBH in his system when he died.
The banned substance is often known as a "date-rape" drug, since it is almost undetectable when added to drinks and causes severe disorientation and drowsiness.
Mr O'Halloran's mother Donna has always maintained that her son had been "spiked", and is now calling for a fresh police investigation and a Fatal Accident Inquiry to be held.
Speaking to the Sunday Express, the 41-year-old said: "David's drinks were spiked. There is no other explanation. He was not a drug user.
"He loved himself too much to take drugs. He loved his sports, he loved looking after his body. He was also due to be working the next day so why would he voluntarily take something like GHB?
"I firmly believe his drink was spiked. If that is the case, then someone out there is guilty of manslaughter.
"The police have to look at this again or we should have a Fatal Accident Inquiry."
Police Scotland were unavailable for comment.