Doune Castle closed as shooting starts on science fiction series
The castle is a key location for highly-anticipated time travel series Outlander.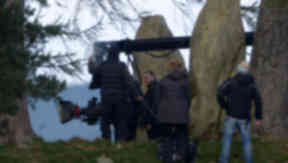 A historic castle will be closed for a month as shooting gets under way on a highly-anticipated science fiction series.
Doune Castle in Perthshire is a key location for the upcoming series Outlander, based on the bestselling novels by Diana Gabaldon which tell the story of time-travelling couple Claire and James Fraser.
Starring Scottish actor Sam Heughan and former model Caitriona Balfe, the series is set to premiere in 2014. The production is being supported by investment from Creative Scotland and has seen the former Isola plant in Cumbernauld undergo a conversion into a studio and production facility.
US cable network Starz and Sony Pictures Television have employed a local crew of about 200 for the production, while an estimated 2400 supporting roles have been cast in the UK.
Scottish culture secretary Fiona Hyslop said the decision to shoot in Scotland was testament to the country's "first-rate facilities".
She said: "The decision to film Outlander in Scotland is a welcome vote of confidence in our first-rate facilities and talent production crews and cements our nation's reputation as a sought-after location for major productions.
"Scotland has the capacity and talent to become a global centre of TV and film production, and the Scottish Government has consistently championed Scotland as a location for international film and TV productions.
"I would like to commend Creative Scotland and our other public sector agencies for their hard work in securing this production in Scotland."
Doune Castle will be closed until November 22 while filming takes place. Historic Scotland said they also anticipate the castle will be closed "for a few days" between February and April 2014.
The castle dates back to the late 14th century and has previously been used as a location for Monty Python and the Holy Grail and as the Stark's stronghold of Winterfell in HBO's Game of Thrones.