Unite pledges to 'embrace' Grangemouth survival plan to save jobs
The changes proposed by bosses include a pay freeze and end to the final pension scheme.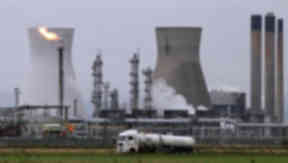 Crunch meetings are taking place between union leaders and managers at the Grangemouth site in a bid to save thousands of jobs following the decision to close the petrochemical side of the business.
Unite have decided to "embrace" Ineos' survival plan after a meeting between general secretary Len McCluskey and union shop stewards.
Mr McCluskey said the shop stewards had decided they had to embrace the survival plan, "warts and all", in the wake of the closure decision.
Workers at the petrochemical site, and adjoining oil refinery, had refused to sign up to the plan, which included a pay freeze, ending of the final salary pension scheme, and other changes to terms and conditions.
Mr McCluskey said: "We are not going to let this plant close. We are encouraged by the comments of the First Minister that he too will not let this plant close.
"We have a situation whereby a company has put down an ultimatum and we have to respond. It is not how we engage in modern day industrial relations.
"My union is engaged with thousands of companies every day to negotiate plans to save jobs. There is nothing humiliating about negotiating plans to ensure jobs and communities are safe.
"This plant is on cold shut down and each day that goes by makes it harder to start back up again, which is why the stewards made the offer to the company - so that we can get people back to work."
Unite said it had made a number of recommendations to owner Ineos, which on Wednesday announced the closure of the petrochemical plant with the loss of 800 jobs and potential 2000 more among contractors.
Ineos is expected to wait until further meetings are held later involving politicians before responding to the latest development.
Scottish Secretary Alistair Carmichael will also be in Grangemouth later to hold talks with Ineos as well as Unite. The Scottish Government will also attend.
Mr Carmichael will also meet representatives from Falkirk Council, the local Chamber of Commerce and a number of local businesses to listen to their views and address concerns on the situation at the plant.
On Wednesday, Ineos insisted it had no alternative but to close the business after it failed to persuade its staff to accept a survival plan, which included a pay freeze, ending of a final salary pension scheme and other changes to terms and conditions.
On Thursday morning, Tom Crotty, a director of Ineos, said the company would put Unite's proposals to shareholders if there was a "very significant" change from the union.
Ineos said admin staff had backed the plan, but workers represented by Unite had rejected it.
The adjoining oil refinery at Grangemouth will stay open, although the entire site has been closed for the past week as a result of the dispute.
Almost 1400 workers are employed at Grangemouth, Scotland's biggest industrial site.
Politicians have urged the two sides to resume talks to prevent the closure, while efforts are expected to be made to find a potential buyer.
Ineos said it had been losing £10m a month and needs to invest £300m in the site.