Former DJ and health worker to be Scotland's first married gay couple
Malcolm Brown and Joe Schofield will make history when they marry in the early hours of January 1.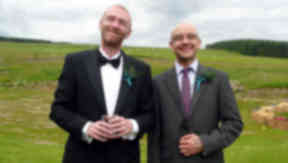 A former DJ and a public health worker will make history seconds after midnight on December 31 when they become Scotland's first married gay couple.
Malcolm Brown and Joe Schofield bonded online over a shared love of punk and alternative music.
The couple from Tullibody, Clackmannanshire, who have been together nine years, said they were "honoured" to become the first same sex couple to be married in Scotland.
The ceremony is being planned down to the last second to ensure the grooms are legally pronounced husband and husband moments after the clock strikes 12 on December 31.
Malcolm and Joe were among 15 couples who took up the Humanist Society Scotland's offer to help organise the earliest-possible gay marriage. Most of the other 14 couples are set to marry later the same day.
The weddings were made possible after a change in the law was passed at Holyrood earlier this year, following a campaign led by the Equality Network.
Former DJ and engineering student Mr Brown, 42, and Mr Schofield, also 42, said their big day will also be about "celebrating the changes and the people who have campaigned".
Mr Brown said: "Before couldn't have used the word marriage. We as a gay couple can now use that term. We're now equal with everyone else. That's really important.
"I was blown away to find out we will be the first."
Mr Schofield, who has campaigned for gay equality since he was 16, added: "There is obviously the devotion I have, this is the guy I want to spend the rest of my life with."
Joe, originally from Rochdale, Greater Manchester, added: "It's also about some of the basic human rights that our relationship will be recognised as husband and husband. That's a biggie.
"This is a real, concrete example of Scotland making changes that will change social attitudes. I was amazed to get it."
Mr Brown, who has lived in Tullibody all his life, worked for eight years as a morning radio DJ on Central FM before becoming a mature student at Edinburgh Napier University. He was 26-years-old before he 'came out'.
Mr Schofield was living in London at the time and after visiting Mr Brown in Scotland had moved north within a year.
Mr Brown added: "You just know when something is right. I knew fairly early on, and I said, 'This is the one, we're going to get married one day'. Those were the words: 'We're going to get married one day.' This is it."
Wedding: The couple will be married by celebrant Ross Wright.
On Sunday they were told they had been chosen to be Scotland's first same sex marriage.
The ceremony will be conducted by Humanist Society Scotland celebrant Ross Wright who has been part of the campaign for equal marriage.
"It was difficult to chose a couple," he said. "Lot of people wanted to be the first. These two just seemed to understand the significance of it on all the levels
"There are going to be a lot of weddings on the 31st. I was expecting people to be really disappointed not to be the first but they were still wanting to get married on the 31st.
Tim Hopkins, Director of the Equality Network, said: "We're really pleased to see this wedding and all the other weddings on the 31st go ahead.
"When the bill passed in the Scottish Parliament February it was a very emotional moment. The 31st of December for us will be a celebration."