Man charged after fans pay £900 for fake T in the Park VIP passes
Paul Reidy posed as a security guard before allegedly conning three festival-goers out of £300 each.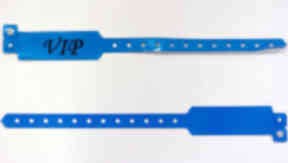 A man has appeared in court accused of conning music fans out of hundreds of pounds for fake T in the Park passes.
Paul Reidy, 23, is alleged to have posed as a security guard and handed over counterfeit wristbands for the festival's VIP area in exchange for £900.
Reidy, from Birniehill Crescent, Bathgate, West Lothian, is alleged to have formed a fraudulent scheme to sell the wristbands between February 1 and July 6.
It is alleged that he induced three festival-goers to pay £900 for the wristbands for the event's VIP area.
He is alleged to have then allowed the trio entry to the festival in Kinross, despite being on bail from both Hamilton and Glasgow sheriff courts at the time.
Reidy, who was granted bail on condition he does not approach any of the alleged victims, denied the charge and will go on trial at Perth Sheriff Court in October.
Strathclyde Police were forced to issue a warning earlier in the year after fake wristbands for the event started to appear for sale on social networking sites.
Two men were arrested in connection with the counterfeit goods.
Geoff Ellis, the director of the festival, said at the time: "As always, we urge fans only to buy T in the Park tickets from official outlets to avoid becoming the victims of fraud.
"Fans who are duped into buying counterfeit tickets and wristbands will not gain access to the festival and will also be left severely out of pocket."