'Culture of bullying' at police college being 'ignored by bosses'
Management rejects claims of intimidation at future headquarters of Scottish single force.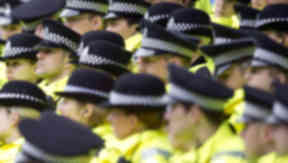 An alleged culture of "bullying and intimidation" at the interim headquarters planned for Scotland's single police force is being ignored by bosses, according to union officials.
Unison's Alex Duncan said civilian staff at the Scottish Police College in Tulliallan, near Kincardine in Fife, are systematically bullied and subjected to intimidation by management.
He added that requests to meet with management from the Scottish Police Services Authority (SPSA) have been ignored or cancelled despite concerns having initially being raised more than a year ago.
Mr Duncan said: "I've had concerns about the culture of bullying and intimidation at the college for about 16 months, and about how complaints and grievances raised by police staff are handled.
"All of my requests to discuss my concerns have fallen on deaf ears so far.
"If a police officer makes a complaint against a civilian member of staff it is taken seriously and dealt with very quickly.
"However, when it's the other way round it's a different story."
Mr Duncan told The Courier newspaper that he is putting together a survey to allow workers to give their views confidentially, which he hopes to then raise with the SPSA.
Unison represents 53 members of staff at the college, which is to be the interim base for the new Police Service of Scotland, which could come into effect as early as April 2013.
John Geates, director of the college, said: "I absolutely reject these unsubstantiated suggestions that a culture of bullying exists in any part of our organisation.
"We haven't had a high level of grievances raised by college staff in the last year and neither have we evidence of significant numbers of staff leaving."
He added: "As director, I have an open-door policy and anyone can come to me if they have any concerns. Contrary to the comments attributed to him, Mr Duncan has at no time raised these issues with me nor have I turned down the opportunity to meet with him.
"But I would be happy to meet him so that he can provide evidence to substantiate his claims as a matter of urgency.
"Our people are our greatest asset and we are not complacent. That's why the Scottish Police College is one of a handful of organisations in Scotland which has achieved the gold standard from Investors in People for supporting its staff and we are proud of this recognition."