WWII spycatchers revealed after 70 years
John and Mary Curran (pictured) revealed the identity of a German spy in Dundee to MI5 but their heroism has never been publicly recognised.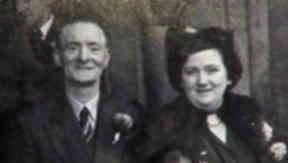 A working class couple in wartime Dundee have finally been recognised for exposing a Nazi agent living in the city.
John and Mary Curran revealed the identity of a German spy to MI5 but to protect the safety of their family, their heroism has never been publicly recognised.
To mark the anniversary of the outbreak of the Second World War, the Curran's daughter Catherine has broken her 70 years of silence to reveal their remarkable story.
Dundee's Kinloch Street was once the location of a hairdresser run by a woman called Jessie Jordan.
But the business was just a front - Jessie's real job was as a Nazi spy working for the German Government as part of an international network making preparations for war.
But she did not count on her own cleaner, mother-of-four Mary Curran being the one to find her out, and who would eventually become an MI5 spycatcher.
Catherine Curran said: "My mum said, right away, 'I don't like her very much', and my Dad said, 'For God's sake Mary…'.
"I think my mum had this insight for people...she was always right."
In 1938, Mary's daughter Catherine was just a little girl. Today she is a pensioner living a quiet life near Dundee.
Despite being 70 years since the war started, Catherine only agreed to speak to STV News as long as her appearance was not revealed.
Catherine said: "My mum found maps, one in particular behind the till. Then there was another one found, just a small corner sticking out of the lino. It was a map of the River Tay, with a Zeppelin."
Dundee police were sceptical but Mary's husband John persisted and they contacted MI5 where alarm bells started to ring.
Historian Dr Andrew Jeffrey says the Curran's were right to alert the authorities.
He said: "MI5 were aware of the existence of Jessie Jordan, but what they were not aware of, until the evidence of Mary Curran in Dundee, was the existence of the shop at Kinloch Street.
"As soon as that became apparent, this address was added to the mail watch on Jessie Jordan and immediately began to turn up some very incriminating evidence from the United States."
Among letters intercepted was this one from a Nazi agent codenamed "Crown," working in New York.
They contained plans to assassinate a United States Colonel, steal the strategy for the American fleet in the Atlantic and blame it all on Russia.
Thanks to the information from Mary Curran, British and American agents joined together to smash the spy ring - including Jessie Jordan.
The Currans were paid one pound for their help and told never to speak about what they did over fears the Germans would hunt them down.
It was a burden Catherine's father found hard to bear.
She said: "He always said, 'I'll be long gone before the truth comes out...but my daughters will hear about it...and now the truth's out."