New £3.7m physics lab opened at St Andrews University is first in UK
The ultra-low vibration facility puts St Andrews University at the front of superconductor research.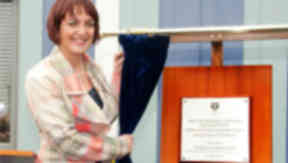 A new £3.7m physics facility has been opened at St Andrews University placing the institution at the forefront of research into superconductors and photonics.
The new centre, which was opened by education secretary Angela Constance on Thursday, will also specialise in light-emitting materials.
One of the key elements of the facility is a an ultra-low vibration (ULV) laboratory, now the most advanced laboratory of its kind the UK and one of only a handful worldwide.
It also offers scientists the use of a new cleanroom and a nanofabrication facility.
The centre has been jointly funded by the Scottish Funding Council (SFC) and the university as part of the Scottish Universities Physics Alliance (SUPA).
The ULV laboratory will allow imaging for study of individual atoms in advanced materials, with the vision to tailor them for future applications.
Ms Constance said: "Scotland's universities are among the world's best and enjoy a great international reputation with four universities in the top 200 in world, including St Andrews.
"St Andrews was highly regarded in last year's Research Excellence Framework and is now best in Scotland in the latest Leiden rankings, for which they should be congratulated.
"The opening of this unique new ULV facility reflects the very best of academic research in Scotland and the university can be very pleased with what it has created here.
Dr Peter Wahl, reader in experimental condensed matter physics, in the School of Physics and Astronomy, who will run the facility, said: "This facility will provide a ULV environment for the custom-built microscopes developed in my group. It will allow us to see individual atoms and study their magnetism."
The new clean room will provide an environment for the development of photonic materials and devices.
Photonics is the science of light and is important across everyday life for communications, displays, lighting, solar cells and sensors.
The materials studied in the new facility include superconductors which conduct electricity without losses, and quantum materials for next generation technologies.
The Leiden rankings for 2015 place St Andrews University as the 45th best university in the world and ninth in the UK.