Fox dies after being found trapped in illegal gin trap for days
The young fox was found at a recycling centre in Dundee but may have dragged itself there from parkland.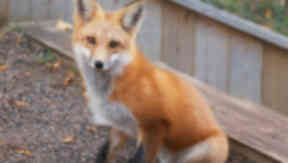 An injured fox had to be put down after being found stuck in an illegal gin trap for several days.
Vets at the Scottish SPCA took the decision after the young fox's foot was left "hanging off", still stuck inside the jaws of the trap.
The animal was found at the Baldovie Recycling Centre in Dundee, however it is believed the trap may have been laid at nearby parkland and the fox managed to drag itself to the centre despite being injured.
The animal charity was called in after the fox was found on Wednesday. It is now appealing to the public for information over who set the trap.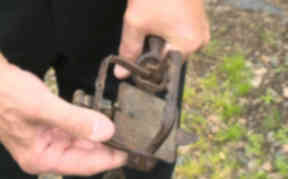 The gin trap that snared a fox in Dundee
Scottish SPCA chief inspector Brian Cowing said: "The fox's foot was hanging off with the trap still attached. Due to the extent of the fox's injuries and the presence of maggot eggs, we believe it had been living like this for several days.
"The fox had suffered a great deal and sadly the kindest and only humane option was to put it to sleep.
"Gin traps have been illegal for over 50 years. They are cruel and indiscriminate and will capture whatever or whoever sets it off.
"There is an area of parkland nearby and we think it's possible the trap was set there and the fox managed to move with it still attached.
"We are asking anyone with information about who may have set this trap to contact us. As the area is popular with dog walkers we would also urge locals to be on their guard and call us if they come across a trap."
Anyone with information is asked to contact the Scottish SPCA animal helpline on 03000 999 999.