Major review of T in the Park urged after revellers' traffic chaos
Festival organisers apologised and issued updated guidance for drivers and festival-goers at Strathallan Castle near Auchterarder.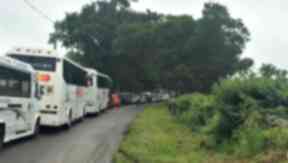 An MSP has called for a major review of the organisation of Scotland's biggest music festival after thousands of revellers were left in massive queues and tailbacks.
T in the Park was hit with traffic delays at its new Strathallan Castle site near Auchterarder with around 85,000 visitors descending each day over the three-day event.
On Saturday the body of Andrew West, 36, was discovered in the Perthshire festival's blue campsite in a portable toilet.
Police said officers were treating the death as "unexplained", however there are believed to be no suspicious circumstances.
On Sunday a man was taken to hospital after being knocked down by a bus. It is understood he is in a critical but stable condition.
And police have confirmed they are following a positive line of inquiry after a video appeared online allegedly showing a man being hit across the head with a glass bottle.
Police Scotland advised day trippers to plan ahead and follow event signs to avoid travel delays but fans reported long queues at drop-off and pick-up points with some vehicles becoming stuck in the mud and having to be towed.
@YouRockWeRoll It's now been 5.5 hr since the TITP pick-ups were due! First they'd already been, now they're stuck in traffic.. #TOTALJOKE!

— Stacy Ferguson (@weesf) July 13, 2015
@ScotCitylink is the definition of a joke, £25 for a single to Edinburgh from TITP then get made to wait in a 3 hour queue

— Laura Smith✨ (@lauzzsmith) July 13, 2015
One father said his autistic teenage daughter had been put off the festival after being forced to walk for three hours in the dark.
Neil Bell, from Dundee, said: "It was complete gridlock - I have never seen anything like it. We waited an hour for our bus - when it didn't turn up we started to walk. It was horrendous - the amount of people walking about the countryside in the pitch black with no luminous clothes on, no torches and some of them having indulged in the festival atmosphere.
"My daughter Mandy got very upset throughout the journey home. it was around five to six miles we had to walk to get back to our caravan. In total it took about three hours to get there, which for someone with learning difficulties, is not easy.
"Mandy has now been completely put off the festival irrespective of what happened the whole day, which was probably one of the best days she's ever had. It was just really said to hear police officers say 'it's not fit for purpose' and 'it should never have been here'.
"Nobody knew what was happening - there was no organisation at the west gate - no formal queue, there was people walking over the racking so cars couldn't get moving - there was just complete confusion. There was no signage - nothing at all to help people know what area they were in and when a bus would be coming through."
Father: Neil Bell says his daughter has been 'put off' the music festival after traffic issues.Festival organisers apologised to those affected and issued updated guidance for drivers and festival-goers on Sunday.However, opponents to the festival's relocation claimed the issues were predicted long before permission to move the festival from Balado, Kinross, was granted.Liz Smith, MSP for mid Scotland and Fife said: "These are exactly the kind of issues which were flagged up months ago when many people warned of the unsuitability of the surrounding road system at Strathallan."It is very clear from comments on social and national media this morning that a large number of people who attended the event were very frustrated by what they encountered when they were trying to enter and leave the car parks and also by the lack of adequate policing and stewarding."This led to significant numbers of people walking along dangerous roads and disregarding the advice issued."T in the Park is an important event in Scotland's festival calendar but there has to be a major review of what has happened this year."The public wants to know why there were so many communication issues between Perth and Kinross Council and DF Concerts and why there appeared to be such disregard for the knowledge of local people."
Three mile tailback on bus route an hour ago. pic.twitter.com/irPSXeoubd

— Strathallan'T'ag (@STactiongroup) July 9, 2015
A spokesman for Strathallan T Action Group added: "DF Concerts were dismissive of concerns about the suitability of the road network and insisted it could be made to work, given their years of experience. They were wrong."The traffic issues being encountered go far beyond teething problems and point to a fundamental inability of the infrastructure to handle this event. "And they raise as many questions of the council and the planning process as they do of DF Concerts - particularly why DF Concerts weren't held to a higher standard and why permission was granted before a fully worked up Traffic Management Plan was in place."
Festival organisers struck a deal to shift the 2015 festival to the Strathallan site following health and safety concerns about an underground oil pipeline at Balado, where it had been held for 18 years.
Noel Gallagher's High Flying Birds brought the curtain down on T in the Park on Sunday night.
Despite problems with traffic delays and reports of a crowd crush on Saturday evening, organisers hailed the festival - in its 22nd year - a success.
Geoff Ellis, T in The Park Festival Director said: "Overall it's been a great first year at Strathallan – the bands were brilliant, the site looked wonderful and we know that the majority of people have had a fantastic time."
"We also know traffic queues coming in and out of the drop off points have left some people frustrated and we apologise for this because we obviously want the experience to be positive for everyone from start to finish."
"A combination of things have contributed to the delays, including the weather, but traffic is moving today and we do also need people to be patient. Years of infrastructure and tried and tested plans at Balado means that our audience is used to a very quick exit from the site – which is not the norm for most other major events around the country. We'll take learnings from this year and will work on improving the times for the future. We thank fans for their co-operation."
Mr Ellis added that a family of Osprey, which environment campaigners were concerned about, had been undisturbed.
He added: "We're also delighted to say that the site's very own high flying birds, a family of four Osprey, have been undisturbed by the festival and there has been no change in their behavior during the event."
Police reported there were 54 arrests since campsites opened on Thursday.
Superintendent Colin Brown said: "T in the Park draws to a close for another year and we'd like to thank fans for behaving responsibly.
"There have been 54 arrests, similar to last year's event, and whilst some of these have been for more serious offences, we have been helped by festival goers providing information to our officers, resulting in a majority of those crimes being detected or having positive lines of enquiry being followed."
The Scottish Ambulance Service reported 700 visits to the hospital tent this year, compared with 858 in 2014.
Nick Moore, of the Scottish Ambulance Service, said: "We mainly treated festival goers for minor, weather related ailments and sprains and strains. Thanks to everyone who took our advice and came prepared for this year's festival."